ZIONIST ISRAEL STAGES 1ST GAZA INCURSION SINCE CEASE-FIRE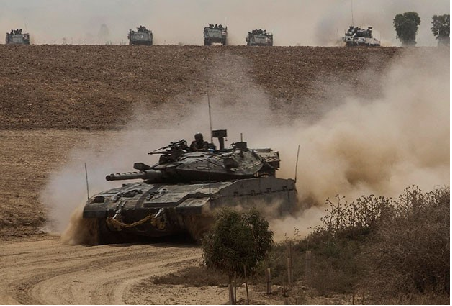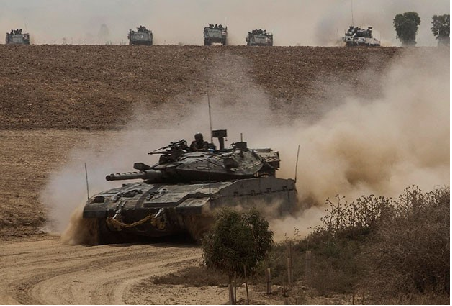 Gaza, 9 Dhulqa'dah 1435/4 September 2014 (MINA) – Israeli occupation regime army bulldozers on Wednesday staged a limited incursion into the Palestinian city of Rafah in the southern Gaza Strip, while Israeli surveillance planes hovered over the area.
The bulldozers pushed some 100 meters into eastern Rafah, according to an Anadolu Agency quoted by Mi'raj Islamic News Agency (MINA).
One eyewitness said the bulldozers tore up a large plot of land near a military gate in the area.
The bulldozers, he added, then moved on to an area in which Israel lost one of its soldiers during its recently-ended 51-day onslaught on the Gaza Strip.
Israel accuses the Ezzeddin al-Qassam Brigades, the armed wing of Palestinian faction Hamas, of holding the remains of a soldier killed in eastern Rafah during pitched battles last month.
The brigades, for its part, has neither confirmed nor denied the allegation.
It was the first time for Israeli forces to enter the embattled coastal enclave since Israeli and Palestinian negotiators signed an August 26 cease-fire deal in Cairo.
The Israeli army has yet to issue an official statement regarding Wednesday's incursion.
Israel's 51-day war on Gaza, which lasted from July 7 to August 26, left 2,148 Palestinians dead – the vast majority of them civilians – and more than 11,000 injured.
The UN advises Israel not to go ahead with its plan to grab hundreds of hectares of Palestinian land in the occupied West Bank.
A spokesman for UN Secretary General Ban Ki-moon said on Monday that he is "alarmed" by the Israeli plan, according to Press TV reports.
"The secretary general is alarmed by yesterday's announcement by Israeli authorities to declare as so-called 'state land' nearly 1,000 acres of land in the Bethlehem area of the West Bank," the spokesman stated.
"The seizure of such a large swath of land risks paving the way for further settlement activity, which — as the United Nations has reiterated on many occasions — is illegal under international law."
On Sunday, Israeli military sources said that about 400 hectares of land at the settlement of Gevaot in the southern city of Bethlehem are "declared as Israeli land."(T/R03/P3)
Mi'raj Islamic News Agency (MINA)