ZIONIST ISRAEL BOMBS HAMAS' TV STATION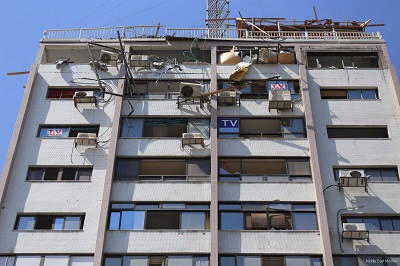 Gaza, 3 Syawal 1435/30 July 2014 (MINA) – Israeli occupation warplanes Tuesday bombed al-Aqsa TV headquarters in al-Nasser, Gaza City with several missiles. The bombing caused total destruction and damaged a number of nearby houses. Middle East Monitor (MEMO) reported.
According to witnesses, Israeli occupation drones also bombed al-Aqsa local radio stations around Rimal, west of Gaza. It caused suspension of their broadcasts.
Al-Aqsa TV and radio stations had suffered similar attacks during Israeli-Gaza war  in 2008.
Two cameramens who are working for the TV station were killed during the war when Israeli drone bombed their vehicles near Shifa Hospital in Gaza.
Israel occupation had launched attacks on Gaza Since 7 July named " Protective Edge Operation". So far the victims of Israeli aggression were 1,175 died and 6900 injured.
According to Palestinian Ministry of Public Works, Israeli war caused the damage of 2,330 houses, 23,160 partial damage and 2,080 of them becoming uninhabitable.
Meanwhile, the death toll from Israel were 110 people. (L/ P08/Syt/P04)
Mi'raj Islamic News Agency (MINA)