YOUTH INJURED IN BEITA ATTACK SAYS FRIEND KILLED IN 'COLD BLOOD'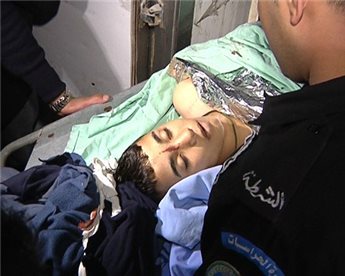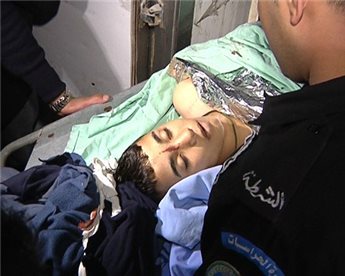 Nablus, 8 Rabiul Awwal 1436/30 December 2014 (MINA) – A single bullet to the heart fired by an Israeli soldier was enough to kill 17-year-old Imam Jamil Ahmad Dweikat, a youth from the town of Beita south of Nablus slain today while walking with a friend in his home village, Ma'an News Agency quoted by Mi'raj Islamic News Agency (MINA) as reporting.
Nael Talat Thiab, 17, who was also shot by Israeli soldiers but escaped with only a bullet to the foot, told Ma'an from his hospital bed at Rafidia Public Hospital in the northern West Bank city of Nablus that he and Dweikat had just left school when his friend's life was cut short in "cold blood" by the Israeli bullet.
"We had just finished our school exam in Islamic education at the school in Beita, where I study with Imam in the first year of secondary school. We went out to buy something things after school and were on our way home when we decided to go to a park in the southern part of Beita," he told Ma'an.
"We arrived to the edge of the park on foot, but we were surprised to see an Israeli soldier coming toward us from atop a hill. He shot at us four times, but he missed us."
"But then he fired again — one single shot — and hit Imam directly in the heart," Thiab told Ma'an.
"Imam fell to the ground. I tried to get near him but then he told me: 'Get away! I've been shot.'"
"I ran a number of meters, trying to flee from the area, but the same soldier shot another bullet at me, injuring me in the foot," he said.
"I was still able to keep running away and I made it to the hospital after flagging down an ambulance stopped by the side of the road, telling the driver that I had not been throwing rocks or even doing anything (when I was shot)."
Thiab's account of the incident contradicts the Israeli military's explanation, which said that the pair were shot while throwing rocks at a nearby road.
When asked to specify which road, the spokeswoman who spoke to Ma'an did not respond.
Dweikat is the 50th Palestinian to be killed in the West Bank by Israeli soldiers so far this year, and at least the 2,335th Palestinian to be killed by the Israeli military including those slain in Gaza.
Jamil Dweikat, Imam's father, was also present at Thiab's bedside at Rafidia hospital in Nablus but when approached by Ma'an was unable to speak.
Dweikat, 43, was at work at a construction site inside Israel when he was given news of the incident, but he was told that his son had been shot and injured.
It was only when Dweikat reached the hospital that they told him his second child of five had died instantly.
Although according to Islamic tradition Imam should have been buried Monday night, his family requested that an autopsy be carried out on his body in order to "document the crimes of the Israeli occupation."
His burial is slated to begin at Rafidia hospital in Nablus on Tuesday, beginning at 10 a.m.
In the wake of the tragedy, the Fatah political movement has announced public commemorations for tomorrow in honor of the youth, who they say was a "member and supporter" of the organization. (T/P010/P3)
Mi'raj Islamic News Agency (MINA)