WHITE FLOWERS OFFER CANADA MUSLIMS PEACE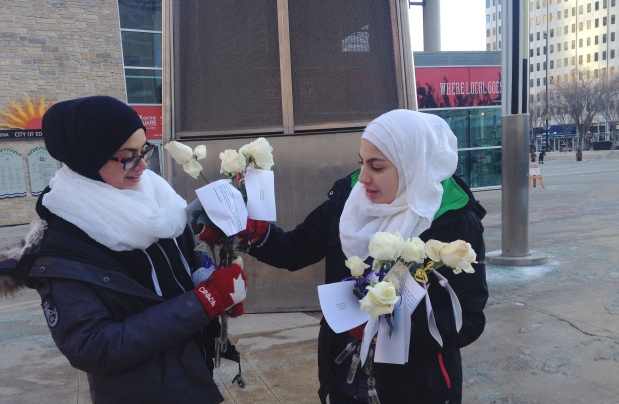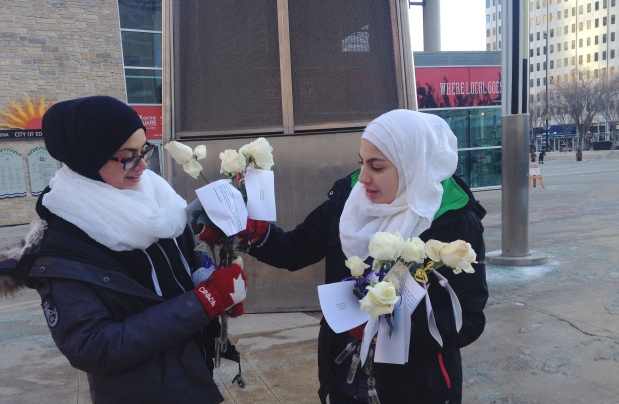 Ottawa, 8 Jumadil Awwal 1436/27 February 2015 (MINA) – Members of a grassroots Muslin group in the city of Edmonton in the western Canadian province of Alberta has handed out white flowers to passersby, in a gesture of peace from local Muslims.
"We're handing out white roses and a saying to promote peace," Marwa Farhat told Edmonton Journal as she handed out roses at Churchill Square on Thursday morning, February 26, On Islam quoted by Mi'raj Islamic News Agency (MINA) as reporting.
"We're not extremists. We don't want people to be scared of us. We're just like any other person," she added.
Farhat, along with other volunteers from Muslims for Peace group, managed to give out more than 500 roses to people around downtown this morning and at lunch. The flowers included quotes and information to help people better understand Islam and Muslims.
The grassroots group came up with the idea three weeks ago as a way to counter misconceptions spread by media about Islam amid news reports about the so-called Islamic State (ISIL) and al-Shabab militant groups.
Farhat said the reactions were very positive from passersby who accepted the roses with a smile or a question. Her basket was nearly empty only an hour into the initiative after handing out 80 roses on the street corner. "It's not a promotion of Islam, it's a promotion of peace," she said.
"We're just putting a friendly face out there … Extremists don't really have a religion. They just take our religion and turn it into theirs at extreme levels."
Sally Farhat, another volunteer, said she was inspired to take an active role in the community after three North Carolina Muslim students were executed in their home this month. "I just want to show people that we're just people. It doesn't matter if you're Muslim or not Muslim, just be a good person," she said.
Muslims make around 2.8 percent of Canada's 32.8 million population, and Islam is the number one non-Christian faith in the north American country. (T/P011/P3)
Mi'raj Islamic News Agency (MINA)