Deputy Foreign Minister Opens the International Conference of Islamic Media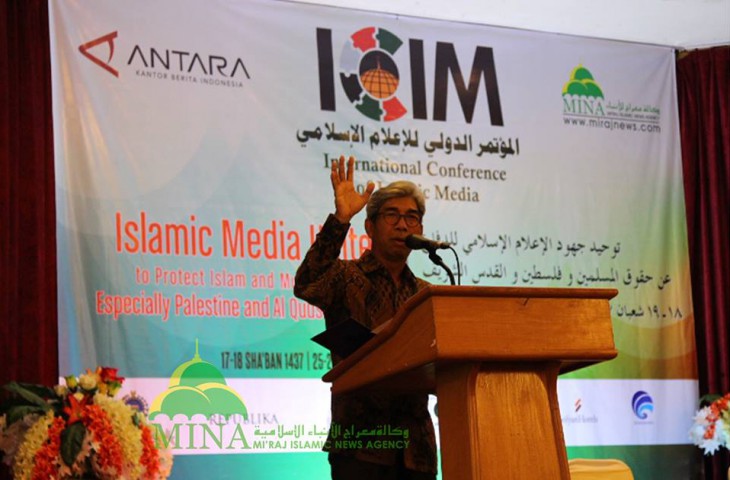 Jakarta, 18 Sha'ban 1437/25 May 2016 (MINA) – Deputy Minister of Foreign Affairs, A.M Fachir,  opened the International Conference of Islamic Media (ICIM) on Tuesday (25/5) at Adhiyana Auditorium, Jakarta.
"We express our apreciation for the committee, Mi'raj Islamic News Agency (MINA), and Antara News Agency for holding  the ICIM today," He said.
At the opening remarks, Fachir said it is the right moment to disscuss this issue together with unity.
As the conference titled, "Islamic Media United to Protect Islam and Muslim interest, especially Palestine and Al-Quds Liberation", Fachir said that Indonesia continue to believe unity is the solution and Indonesia sees the Palestine as the core of issue.
"We are now more than aware to finding solution in this humanitarian trgaedy," he added.
The conference invited the editor in chief of news agencies and media organizations from 50 countries.
The conference presented by  international speakers, among them Imaam Shamsi Ali (Founder Nusantara Foundation; USA), Dr. Daud Abdullah (Director of Middle East Monitor; UK), Sheikh Ahmad Shoyyan (Editor in Chief of Al-Bayan magazine; Saudi Arabia), and Ahmad Ashaaf (chief editor of the Palestinian News Agency WAFA; Palestine).
The conference to result Jakarta Declaration for Islamic Media, is expected to unite media in realizing the freedom of Palestine.
The conference will also be attended officials, scholars, community leaders and activists.(L/P008/R04)
Mi'raj Islamic News Agency (MINA)