Turkey's Diplomacy, Attaturk Airport and Israel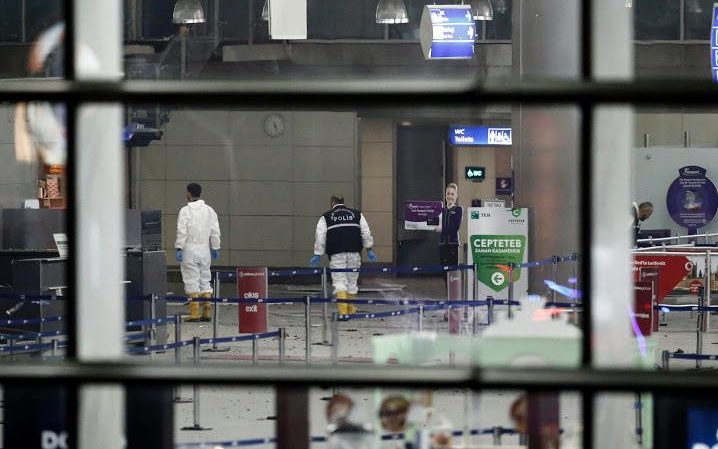 Atatürk Airport has been on high alert after a terror attack that claimed 45 lives and wounded dozens on June 28.
Five Saudis, two Iraqis and citizens from China, Jordan, Tunisia, Uzbekistan, Iran and Ukraine were among 13 foreigners dead.
No group has yet claimed responsibility for the attack, but Turkish officials were quick to lay blame at Isil's door.
Turkey has suffered a spate of bombings this year, including two suicide attacks in tourist areas of Istanbul blamed on Isil, and two car bombings in the capital, Ankara, which were claimed by a Kurdish militant group.
Regarding on that, contributor of Mi'raj Islamic News Agency (MINA) held an online interview with Merve Sebnem Oruc. She is a managing editor in online journalism, a commentator and a columnist in Turkey. She has also regular columns in Turkish dailies Yeni Safak and Daily Sabah. She focuses on Turkish politics and diplomacy, Arab-Israeli relations and the Middle East politics.
MINA: What is the condition of Atatürk airport right now? Can it be said that the airport is now safe?
Oruc: Istanbul Atatürk Airport is back to its old crowded days now. Of course, the security measures have been increased but it's safe as it was before. But I am not sure that we can guarantee the safety of any place around the world right now. The ISIS threat is a whole new level of terrorism and it's threating every one, every place, and another terror attack can happen any time. As you know, a week after Istanbul Ataturk Airport, there were three attacks in Saudi Arabia including one targeting holy city Medinah. There was also Baghdad where hundreds died in just one attack. Before that we have seen attacks in Europe, in France, even in Indonesia. So we must admit that there is no place which we can assure that it's totally safe.
MINA: It has been said that it only took 12 hours for the airport to be reopened. Is 12 hours enough to screen the airport and its surroundings?
Oruc: Well, now it's been more than ten days. And everything is ok in the airport and its surroundings so I believe that the authorities did their best. They were not in an unnecessary rush to reopen the airport but they did it quickly. It was because Turkish authorities believe that giving the panic a change and letting the terror stop the life is just helping the terror and giving it what it wants. So they are giving a huge effort in order not to give terror organisations the satisfaction they desire.
MINA: Now that there is a better relationship between Turkey and Russia, and the fact that Russia claims to fight ISIS and has made gains, will it somehow affect the success of countering terrorism in Turkey?
Oruc: Not only the countries in the Middle East or close to the region but all the countries have to increase their relationships to combat terrorism. But the real coordination will come if they leave aside their different approaches to terror organisations. For example, PYD, the Syrian offshoot of the PKK, and the PKK itself is a huge terror threat to Turkey just like ISIS but many countries in Europe including Russia, and the US have ignored that reality for a long while. The PKK, a listed terror organization by many countries including the EU and the US, is behind many terror attacks in Turkey but Turkey's allies and neighboring countries simply overlook that fact. The success against terror will come only after we stop treating some terror organisations helpful tools while seeing the others the one and only terror threat. That's why we have to wait and see if Russia will care about Turkey's concerns. Besides, Russia claims that it has gains against ISIS in Syria but the data on the ground reveals that Russia is only helping Assad regime to gain against opposition fighters over the zones where there is no ISIS presence. So we have to see action not words.
MINA: Regarding the latest deal with Israel, is Turkey given the freedom to send aids to Gaza? Has the families of Mavi Marmara victims agreed to the compensation? Will Turkey still be able to send aids to Gaza if the Mavi Marmara victims' families refused the compensation? And Can Israel's promises be trusted?
Oruc: The ship carried 11,000 tons of humanitarian aid supplies to the besieged Gaza Strip sailed from Turkey's southern port of Mersin and reached to Ashdod in Israel. We hope this is just a start and the aid ships would not face any hurdles while they are carrying supplies to Gaza. If the aid supplies will be easily delivered to Gaza, I don't think that the families of Mavi Marmara victims disagree with the terms of the deal between Turkey and Israel. Gaza Strip is still under blockade and we all would like to see more but the situation of the entire region pushes us to find some conciliation regarding at least some of the conflicts and problems between the states. I think no one think that Israel can be trusted especially when it comes to its words with regards to Gaza and Palestinians, but Turkey is not a country to be trapped easily. The deal was on the table for years, I am sure Turkey was really thorough during the negotiations. Finally a solution is reached, let's hope it will ease the Gazan's pain and suffering.
MINA: What is the striking difference between Ahmet Davugtoglu and Binali Yıldırım? İt is understood that Yıldırım wants to mend ties with Turkey's neighbouring countries, but didn't Davugtoglu, even when he was a forreign affairs minister, had this zero problem with neighbours policy?
Oruc: I believe the resign of Ahmet Davutoglu and the replacement of Binali Yildirim as the prime minister has come mostly because of the internal party matters. Neither Davutoglu nor any member of the Ak Party was happy with the frozen ties with Russia. Feridun Sinirlioglu, the top diplomat of Turkish Foreign Affairs, was sent to negotiate with Israel by Ahmet Davutoglu. So Davutoglu was not someone who prevented the deal with Israel. As I said I believe that it was because of internal matters and Davutoglu chose to resign.
MINA: How dire is the national security of Turkey righy now? Many people were surprised to learn Erdoğan's latest remarks on Mavi Marmara. How do you think this latest events will effect Erdoğan's popularity inside Turkey? İs there more than meets the eye?
Oruc: Turkey is fighting terror of the PKK and DAESH on one side and finding solutions for several problems such as millions of refugees inside Turkey, carrying the economic burden of it, the civil war across the border etc. In the meantime, it faces a huge smear campaign on the international mainstream media. Of course it's not easy but Turkey is doing its best under these circumstances. The daily life routine of Turkish people has not affected, they go to holidays, they celebrate bayrams, the life goes on as usual. However the government is obliged to make it go on as it is. That's not an easy task, that's why it has increased national security measures and make some fine-tune arrangements regarding its foreign policy. I believe someone who looks deeply enough at the critical conditions of the region around Turkey, they would understand why Erdogan had to some sacrifices. If the ideological prejudgments affect the people's approach to Turkey and Erdogan, of course they would think that Erdogan is changing its path. But that's not true.(R04/R03)
Mi'raj Islamic News Agency (MINA)