THOUSANDS OF PALESTINIANS DEMONSTRATE AGAINST EGYPTIAN COURT DECISION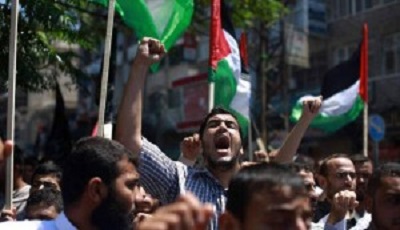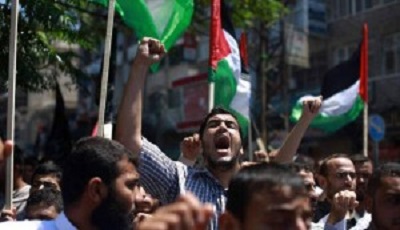 Gaza, 15 Rabi'ul Akhir1436 /4 February 2015 (MINA) — Thousands of Palestinians demonstrated on Monday afternoon in northen area of the Gaza Strip rejecting the Egyptian court's decision stating that Izzuddin Al-Qassam Brigades, the military wing of Hamas, as a terrorist group.
The protesters on behalf of Hamas crowded at the streets of Mukhoyyam Jabalia, Palestinian refugees shelter area in the northern Gaza, Mi'raj Islamic News Agency (MINA)'s correspondent in Gaza reported.
The protesters waved Hamas flags and banners that read "Al-Qassam are fighters, not terrorists", "Al-Qassam is the pride of the people, not terrorists" and "We are all the Al-Qassam, Repent, O Egypt."
One of the leaders of Hamas, Musyir Al-Mashri, said: "The decision of the Egyptian Court is a coup on history, it does not reveal the inner voice of the Egyptian people who support the fighters and the Palestinian struggle."
He also said, the decision is dangerous and very disturbing.
"This decision is actually an attempt to cover up the failure and weakness of the Egyptian security," he said.
According to Al-Mashri, the Egyptian court decision tarnished the history of Egypt in its role in the Palestinian struggle in the Gaza Strip. "This decision is wrong and dirty politics," he added.
He believed, the Egyptian court decision would not have an impact on Palestinian and Egyptian people in supporting Palestinian struggle, especially the Al-Qassam Brigades.
He also asked the Arab Islamic Army to revoke the Egyptian court decision that bothers people honor and sanctity of the Palestinian struggle.
An Egyptian court on Saturday issued a decree stating that the Al-Qassam Brigades, the military wing of Hamas as a terrorist entity. (L /P009/P3)
Mi'raj Islamic News Agency (MINA)