SIYAM FAMILY: FLED BOMBING OF THEIR AREA ONLY TO BE MASSACRED BY ISRAEL ELSEWHERE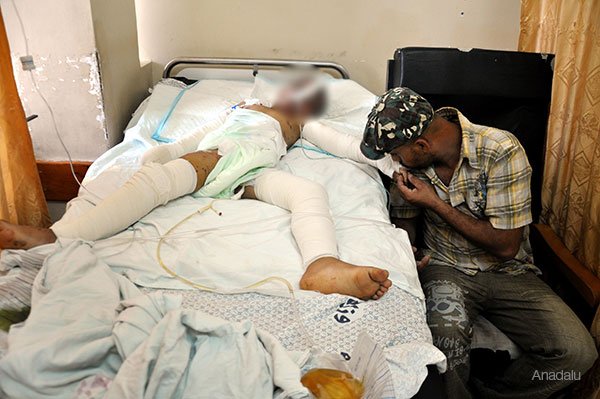 Gaza City, 28 Ramadan 1435/26 July 2014 (MINA) – "I don't want anything, except to see Israeli army commanders on trial as war criminals," says Palestinian Zakariya Siyam, 37, referring to the killers of his wife and a large number of his relatives in the current Israeli offensive on Gaza, Middle East Monitor (MEMO) quoted by Mi'raj Islamic News Agency (MINA) as reporting, Saturday.
At the Shifa Hospital in Gaza, Siyam is staying with his three sons who have been injured in the Israeli bombing of the Qassas family home in southern Gaza. Overwhelmed with sorrow, Siyam moves between the hospital's departments to check up on his children, each being treated in different units.
Recalling the details of the incident, Siyam, who is based in the neighbourhood of Zaytoun adjacent to the embattled Shujaya district, says that he had to leave his home seeking shelter at the Qassas family home, along with his wife Aliaa, 31, and his three sons Odai, 12, Mohamed, 11, and Loai, 10. Feeling relatively safe, the family accompanied children who were playing on the roof of the building, only to be bombed moments later by an Israeli drone, which killed nine members of the family, including four children.
Siyam, who was away at the time of the attack, says he spoke on the phone with his wife on the second day of her arrival at the Qassas home, and agreed with her that he would pick her up along with her three children and go back to their home in Zaytoun.
"Ten minutes later, their cell phones were off and I learned from news reports that the Qassas home had been bombed."
It was an enormous tragedy for Siyam, who was informed once he arrived at the hospital that his mother, wife, sister and nephews were killed, and his sons were seriously injured.
"Why have drones bombed them?" Siyam asks, while holding his son's hands, worried about his fate. "Everyone has become a target in Gaza… We fled bombs but were met with others… Where are Arab countries? Where are human rights?"
Siyam went on to say that his sons do not know that their mother was killed. "I don't know how I will tell them after they recover," he says. (T/E01/IR)
Mi'raj Islamic News Agency (MINA)