Sheikh Ikrima Affirms Al-Aqsa Mosque Belongs to Muslims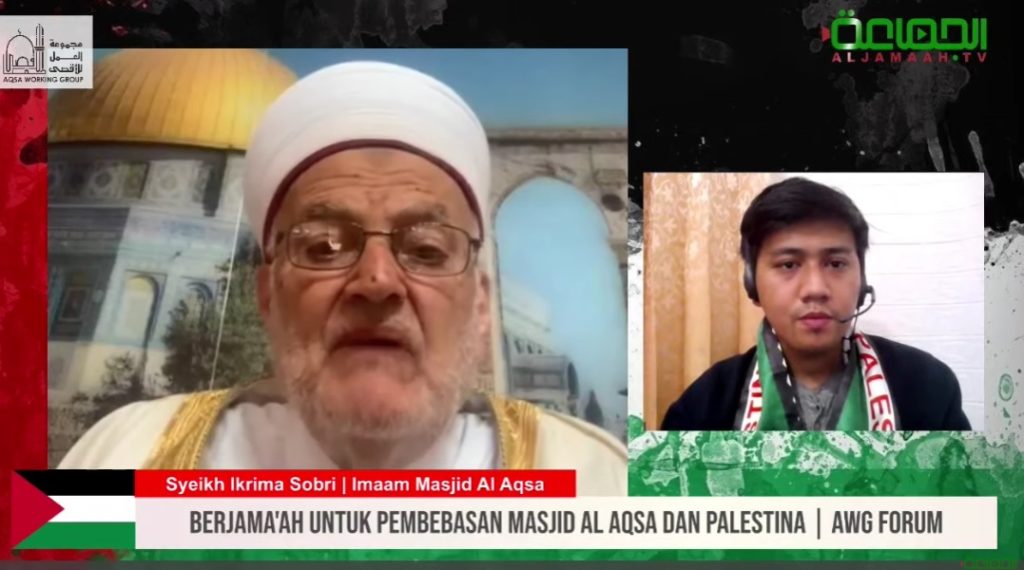 Cileungsi,Bogor, MINA – The Imaam Al Aqsa Mosque Syeikh Ikrima Sobri affirm, Masjidil Aqsa which is currently controlled by Israel belongs to the Muslims.
"This is a policy that does not come from the United Nations, does not come from any organization, not any security council," he said when he was a speaker at the Aqsa Working Group (AWG) Forum Webinar with the theme "Together for the Liberation of Al Aqsa Mosque and Palestine. " On Saturday, June 26.
"This is a law that Allah has established in His seventh heaven, the position of the Al Aqsa Mosque is the same like the position of the Grand Mosque and the Nabawi Mosque," he added.
He continue, our love to the Al Aqsa Mosque is our love for Palestine, our love for our faith in the Al Aqsa Mosque, if there is no Aqsa Mosque, maybe not be our love for Palestine.
"So actually what the Israeli Zionists doing, actually wanted to delete our love for the Al-Aqsa Mosque through the occupation of the Palestinian, the attack on the Aqsa Mosque, then it indicates they are not the real owners," he said.
Syeikh Ikrima said, with his posisition in Baitul Maqdis, he will provide direction, as well as understanding the importance of liberation of Baitul Maqdis, and the importance of Muslims to liberation the Aqsa Mosque.
"When speaking of Al Quds, that is Al Aqsa and Palestine, when hearing Al Aqsa it is also Al Quds and Palestine, also when hearing Palestine it means Al Quds and Al Aqsa, in the Quran there is no distinction between these three words, all of them mean the same," he explaine. (L/Hju/RE1)
Mi'raj News Agency (MINA)