Rouhani Calls for Middle East United Against US and Israel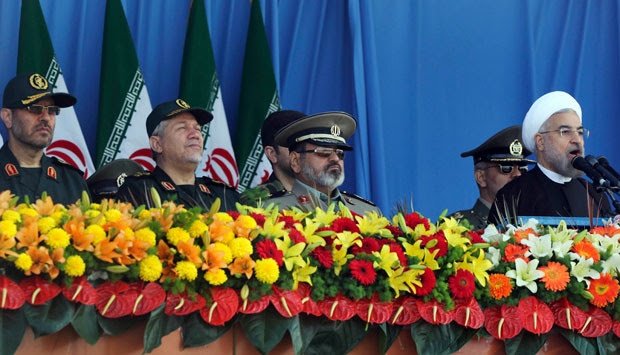 Iranian President Hassan Rouhani (right) addressed the National Armed Forces Day in front of the tomb of the late revolutionary founder Ayatollah Khomeini, Tehran, Iran (18/4). (AP / Vahid Salemi)
Tehran, MINA – Iranian President, Hassan Rouhani calls for countries of Middle East to unite against the United States and its allies Israel, because they are the root of problems in the region.
"If we have problems in the region today, the root is with Zionism or American pride," Rouhani said in a speech at the Army Day parade in Tehran, Thursday as quoted by Al-Jazeera.
Flanked by top generals, he added Iran's armed forces were do not threat to any regional country.
"Countries in the region have lived side by side for centuries and never had a problem. If there is a problem, it is caused by another person, "said Rouhani.
Rouhani told neighboring Iranian countries across the region that his armed forces had never opposed the national interests of other countries, but stood up against the aggressors.
"Let us stand together and get rid of presence of aggressors from the region," he added in a speech broadcast live on state television.
During the ceremony, soldiers marched past the podium where Rouhani and the military commanders were standing, while locally fighter jets took part for an air show.
Iran also launched missiles, submarines, armored vehicles, radars and electronic warfare systems. He also exhibited the Russian S-300 missile defense system.
"We are looking for regional security and stability, state sovereignty and the end of terrorism and their activities in this region," he said.
Iran has two forces, one which operates as a national and Islamic defense force. Meanwhile, Revolutionary Guards Corps was created after 1979 revolution to protect Islamic Republic of Iran against internal and external enemies. (T/Sj)
Mi'raj News Agency (MINA)