PALESTINIAN FARMERS CONTINUE TO FACE HARDSHIP MONTHS AFTER GAZA WAR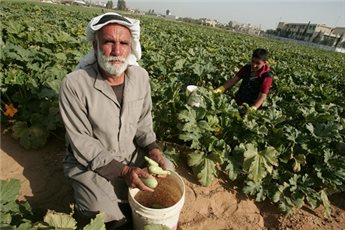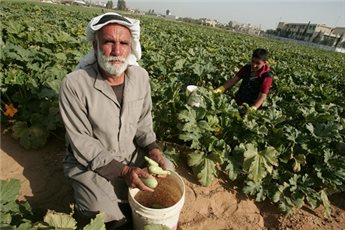 Bethlehem, 8 Jumadil Awwal 1436/27 February 2015 (MINA)– Palestinian Farmers in the Gaza Strip continue to suffer the consequences of massive losses incurred during Israel's military offensive last summer, a French humanitarian NGO said Thursday.
Première Urgence – Aide Médicale Internationale said that over 88 percent of crops provided to farmers by the group were damaged during the 51-day conflict, with farmers continuing to suffer from access restrictions and violations of International Humanitarian Law.
A survey of 285 farmers conducted by the group found that 84 percent assessed had been forced to take out loans to cope with the loss of income incurred by damage to their land, Ma'an News Agency quoted by Mi'raj Islamic News Agency (MINA) as reporting.
"Before 2005, I used to have greenhouses here where I grew tomatoes and I used to earn good money exporting these tomatoes to the West Bank, Israel and abroad," farmer Amona Ahmed Abu Rejalaa, from Khuza, told PU-AMI.
"Since the imposition of access restrictions in 2005 and the blockade in 2007, the situation has been totally different. Exportation is not allowed, access is limited and risky (as we often hear warning shots and have to leave), (…), and we are left with very low income and increasing debts."
Nearly 87 percent of irrigation systems were damaged during the war, the group said, and the high cost of water means most farmers cannot afford to irrigate their crops.
PU-AMI called on Israel and Egypt "to abide by their obligations under International Humanitarian Law and respect basic human rights in Gaza – which includes to fully lifting the blockade to allow unrestricted import and export of goods and the freedom of movement of people."
Israeli forces regularly shoot at farmers and other civilians inside the Gaza Strip if they approach large swathes of land near the border that the Israeli military has deemed off-limits to Palestinians. (T/P010/P3)
Mi'raj Islamic News Agency (MINA)