Jordanian Parliament Urges to Stop Israeli Steps at Al-Aqsa Mosque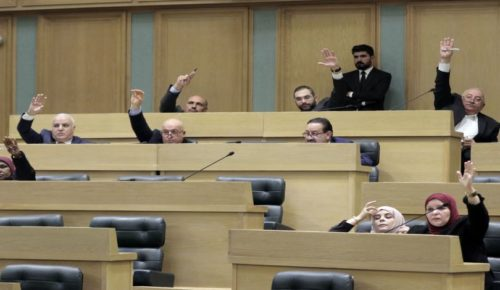 Jordanian Parliament (Quds Press)
Amman, MINA – The Jordanian Parliament recommended the urgency of immediate Arab and international intervention toward Israeli measures in Al-Quds (Jerusalem) and the Al-Aqsa Mosque.
the recommendations were generated from an emergency session held by Parliament on Monday, March 18, to discuss the impact of Israel's violations of the Holy City of Al-Quds.
The recommendation also mentions, "the emphasis is on Hashemite guardianship about the sanctity of Islam and Christianity in Jerusalem." Quds Press reported.
The Parliament also stressed that "Jerusalem is the capital of the Palestinian state and refused any action to move the embassy there."
Parliament called on the country's government to provide Islamic Waqf in Jerusalem.
Parliament called for "criticism of all forms of normalization and the government must withdraw the ambassador of Jordan and expel the Israeli ambassador."
Parliament also noted in its statement that the Wadi Araba Convention was currently being considered by the Parliamentary Law Committee, while the Energy Committee would immediately consider the subject of "gas agreements" with Israel to make the right decisions.
The Jerusalem Waqf Department from the Awqaf Ministry, the Sacred and Islamic Affairs Site in Jordan is the official superintendent of the Al Aqsa Mosque, while Jerusalem Awqaf under international law. This Department is Jordan's last local authority that oversees these sacred sites before being occupied by Israel.
Jordan retained its right to oversee religious affairs in Jerusalem under the Wadi Araba Agreement (1994 Jordan-Israel Peace Agreement).
In March 2013, the King of Jordan and Palestinian President Mahmoud Abbas signed an agreement that gave Jordan the right to "guardianship and defense of Jerusalem and holy sites" in the occupied Palestinian territories. (T/Sj/P2)
Mi'raj News Agency (MINA)