JAMA'AH MUSLIMIN CONDEMNS ZIONIST BOMBING OF HOSPITAL IN GAZA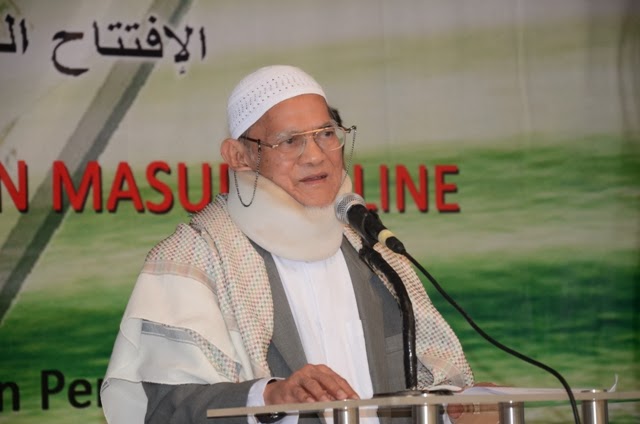 Jakarta, 24 Ramadan 1435/22 July 2014 (MINA) – Imaam Jama'ah Muslimin (Hizbullah) Shaykh Muhyiddin Hamidy on behalf of Muslims strongly condemned Israeli occupation forces attack on Syuhada Al-Aqsha Hospital in Deir Balah, Gaza on Monday afternoon.
Hamidy asserted, the Israeli barbaric acts against Gaza people are clearly war crimes and crimes against humanity. He said in a press release received Mi'raj Islamic News Agency (MINA), early Tuesday morning.
"Attacking civilians and their houses is clearly a war crime. Moreover, they attacked a hospital, where injured people including old men, women, children and babies were treated," he said.
Jama'ah Muslimin (Hizbullah), as a Muslims unity forum, based in Jakarta, urges all peace-loving organizations to condemn the Israeli brutal actions in Gaza, Palestine, and filed a joint lawsuit against Zionist Israel.
"Those barbaric acts proved that Zionist Israel is the real terrorist. They never care about human rights, especially the people in the Gaza Strip and Palestine as a whole. They also do not respect the Palestinian rights to the freedom of Palestine," said Hamidy who is also chairman of Al-Aqsa Liberation and Palestine Independence Acceleration, the results of Bandung International Conference for the Liberation of Al Quds, 2012.
He called on all Muslims through out the world, especially at the end of the month of Ramadan, to carry out qunut nazilah, bowing at the last part (standing) of each obligatory prayer.
"Lets do pray qunut nazilah until the invaders stop attacking civilians in the Gaza Strip," he said.
Muhyiddin Hamidy also called on Muslims to pray for the successful of the Palestinian fighters defeating the Zionist invaders and driving the occupation forces out of Gaza Strip and Palestine.
Hamidy reminded all Muslims around the world to be united in facing Israeli occupation regime crimes. There are various ways that can be done simultaneously by Muslims, such as providing moral support, donation and assistance through humanitarian agencies, particularly helping Indonesian Hospital in Gaza which is very necessary, or become volunteers in the Gaza Strip.
He also urged Indonesian President Susilo Bambang Yudhoyono to immediately implement the opening of the Consular in the Gaza Strip. It is the right time that Palestinians have performed a unity government combining Gaza Strip and West Bank governments. (L/R 1/P04/E01).
Mi'raj Islamic News Agency (MINA)