THREE ISRAELI SOLDIERS COMMITT SUICIDE AFTER ISRAELI WAR ON GAZA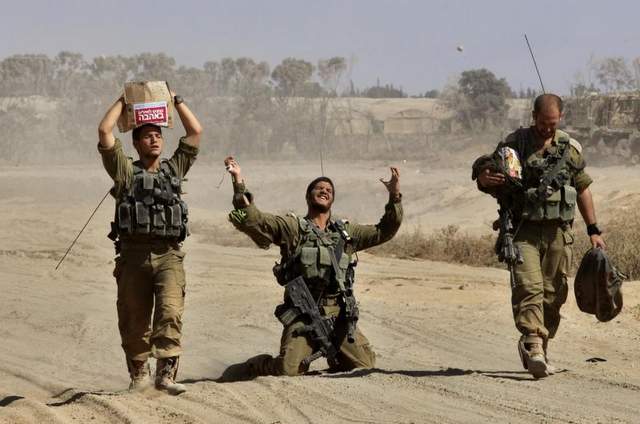 Al Quds, 7 Dhulhijja 1435/1 September 2014 (MINA) – The Israeli military police have opened an investigation after three members of an elite military unit committed suicide, sources revealed yesterday.
The soldiers from the Givati Brigade, who took part in the ground operation during the recent assault, committed suicide after the Israeli war on Gaza ended, according to Middle East Media Monitor reports as quoted by Mi'raj Islamic News Agency (MINA).
According to the Israeli daily Maariv, in the three cases bullets from personal guns caused the deaths. Two of the soldiers shot themselves on army bases along the borders of the Gaza Strip.
All the three cases were similar, the newspaper said, as the personal guns were found beside the dead soldiers, and it is hoped the investigation will reveal how the suicides were committed.
Maariv reported a senior psychiatric military officer as saying only eight soldiers committed suicide last year, the lowest number since the establishment of the Israeli army.
The primary cause of death among soldiers serving in the Israel Defense Forces is suicide, according to an analysis of data covering the past three years.
In 2011, the most recent year for which official army data is available, 21 soldiers took their own lives – more than the number of soldiers who died as a result of disease, traffic accidents, operational activity or other calamities, Israeli Haaretz reported.
In 2011, 15 soldiers died in traffic accidents, two in the course of operational activity and 12 as a result of disease. Six additional soldiers died in accidents that the army describes as "other" – meaning training and similar accidents.
In 2010, more soldiers committed suicide than those who died due to other circumstances, including traffic accidents and disease. According to the army's statistics, 28 soldiers took their lives in 2010, 14 soldiers died in traffic accidents and 10 from disease.
In 2009, suicide was the number one reason for death in the IDF: 20 soldiers committed suicide, almost double the number of soldiers who died in the course of operational activity.(T/R04/R03)
Mi'raj Islamic News Agency (MINA)