ISRAEL ISSUES MULTIPLE DEMOLITION ORDERS TO BEDOUINS NEAR JERUSALEM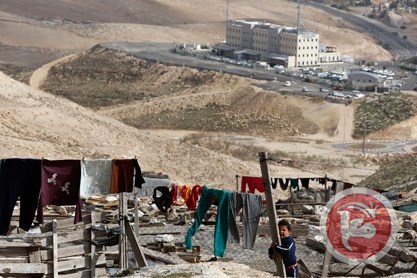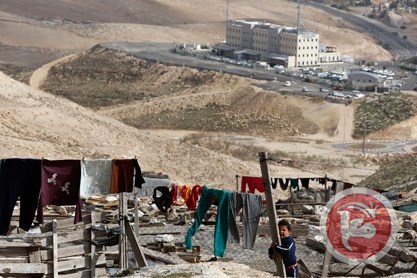 Al-Quds, 22 Ramadan 1436/9 July 2015 (MINA) – Israel's Civil Administration on Thursday delivered dozens of eviction and stop-work orders to Palestinian Bedouins east of Jerusalem, a lawyer told Ma'an.
Bassab Bahar, who chairs an East Jerusalem committee to protect Palestinian land, said Civil Administration officers accompanied by Israel's military raided the Abu al-Nawwar dwellings, which house members of the al-Jahalin Bedouin community.
The officers issued orders notifying Bedouin families that they must move to the Bawwabat al-Quds (Jerusalem Gate) area within a month, Ma'an News Agency quoted by Mi'raj Islamic News Agency (MINA) as reporting.
The area is on the outskirts of Abu Dis where Israeli authorities plan to relocate Bedouin families currently living in the E1 zone, an area northeast of Jerusalem and west of the illegal Israeli settlement of Maale Adumim.
The orders also stipulated that the families attend a session at the Civil Administration's office on July 22 to discuss the relocation of the local community.
Israeli officers also issued stop-work orders for temporary housing in the area and summoned families to attend a court hearing in the Beit El settlement on Aug. 8.
Bahar said that the warrants mark an escalation by Israel in terms of relocation Bedouin communities, saying that the Bawwabat al-Quds area is inappropriate for human settlement due to a nearby dumping ground for waste.
On Tuesday, a Palestinian Authority court ruled that any construction in the Bawwabat al-Quds area is banned, except for Palestinian land owners.
However, the PA court has no jurisdiction in the area and PA security can not enforce the decision.
Younis Muhammadin, a dignitary from the Muhammadin family, a branch of the al-Jahalin community, told Ma'an that Civil Administration officials also took photos of the area with a small drone, before issuing stop work and demolition orders to 40 families and two to a kindergarten and guest house.
Israeli plans for settlement construction in the area have been strongly opposed by the international community, including the US.
Critics say Israeli settlement construction in E1 would divide the West Bank in two and make the creation of a contiguous Palestinian state — as envisaged by the internationally backed two-state solution to the Palestinian-Israeli conflict — virtually impossible. (T/P010/R03)
Mi'raj Islamic News Agency (MINA)