ISRAEL ALLOWS FLAG DANCE IN JERUSALEM, MUFTI HUSSEIN CONDEMNS THE DECISION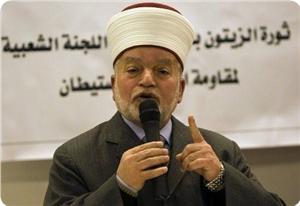 Al-Quds, 9 Rajab 1436/28 April 2015 (MINA) – Israeli police allowed the arrangement of the annual flag dance march in the Islamic neighborhood  in occupied East Al Quds within the celebration of the so-called "Jerusalem Day".
The Israeli police decision was made despite the events that occurred in last year's march which witnessed racist chants and violence against Palestinians, The Palestinian Information Center (PIC) quoted by Mi'raj Islamic News Agency (MINA) as reporting.
The Haaretz Hebrew newspaper revealed on Monday that the Israeli police enforces curfew for hours to secure the march in which settlers usually chant slogans such as "death to the Arabs" and "Mohammad died".
The settlers also carry out provocative violent aggressive practices such as hitting the windows and doors of Palestinian houses and shops as well as breaking the locks of commercial shops.
Several human rights societies filed with the Israeli police a request to block the flag march and warned of dangerous violent events. The Israeli legal adviser in Jerusalem, however, endorsed the march under the pretext of freedom of expression.
For his part, the Grand Mufti of Jerusalem and Palestine Sheikh Mohammad Hussein warned of the consequences of this decision, saying "this march is another form of the religious war against Palestinians which is going to increase tension in the entire region".
He said this goes in line with the Israeli extremism adopted by Israeli authorities which aims at taking over East Jerusalem along with its holy shrines.
In a similar context, Sheikh Hussein condemned the killing of Ali Abu Ghannam and Mahmoud Abu Jhaisheh in cold blood by Israeli policemen and soldiers.
He also called on the local and international institutions and authorities including the UNESCO to intervene to halt the Israeli increasing aggressive practices against the Palestinian people and holy sites. (T/P011/R03)
Mi'raj Islamic News Agency (MINA)