IRAQI ARMY CLASHES WITH ISIL IN TIKRIT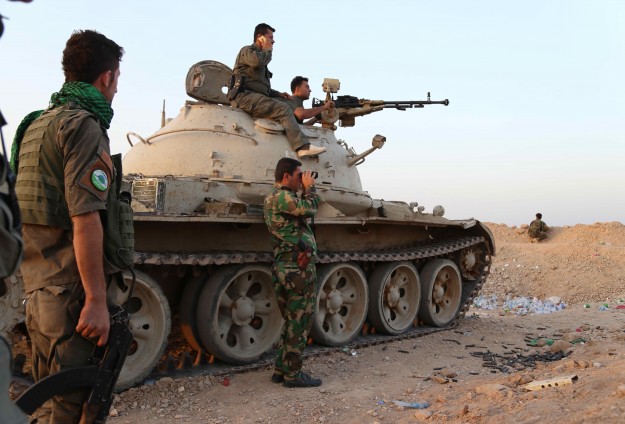 Baghdad, 17 Ramadan 1435/15 July 2014 (MINA) – Iraq's defense ministry claimed Tuesday that its army has launched operations against ISIL fighters to regain control of Tikrit – the hometown of former president Saddam Hussein.
Baghdad's security forces are claiming to have removed Islamic State of Iraq and the Levant – ISIL – militants in an operation called 'Sharp Sword', Anadolu Agency (AA) quoted by Mi'raj Islamic News Agency (MINA) as reporting.
Clashes have continued between the Iraqi army and ISIL in the southern part of Tikrit, according to an AA reporter.
Tikrit's governor has said local forces were able to control the city within two hours after the operation. The governor said that "most armed groups have started to leave the streets of the Tikrit".
Iraq has seen a significant increase in sectarian violence between Sunni and Shia Muslims since June, when a coalition of armed opposition groups led by ISIL took control of large swathes of the country's predominantly Sunni provinces.
The latest wave of insurgency began when militants captured the city of Mosul on June 10 and soon afterwards took control of a number of other key cities and towns including Tal Afar, Fallujah and Baiji.
The United States will send about 300 more American troops to Iraq to protect the US Embassy in the capital city of Baghdad, the Pentagon announced.
Pentagon spokesman Rear Admiral John Kirby said in a statement about 200 forces arrived in Iraq on Sunday to reinforce security at the embassy, its support facilities and Baghdad International Airport.
Another 100 personnel were also due to move to Baghdad to "provide security and logistics support," Press TV quoted by Mi'raj Islamic News Agency (MINA) as reporting
"These forces are separate and apart from the up to 300 personnel the president authorized to establish two joint operations centers and conduct an assessment of how the US can provide additional support to Iraq's security forces," Kirby said.
In a letter to Congress on Monday, President Barack Obama notified House and Senate leaders about the deployment amid the escalating crisis in the region.
"In light of the security situation in Baghdad, I have ordered up to approximately 200 additional US Armed Forces personnel to Iraq to reinforce security at the US Embassy, its support facilities, and the Baghdad International Airport," Obama said in the letter.(T/P09/P04)
Mi'raj Islamic News Agency (MINA)
5