Indonesian President Refreshes War Against Drug Abuse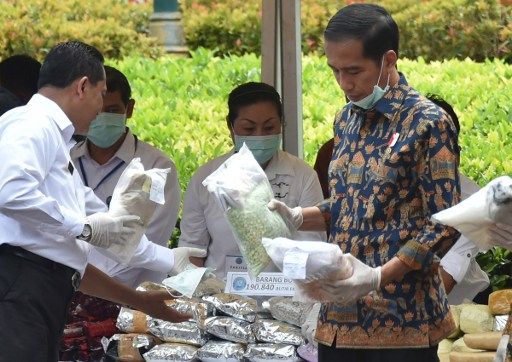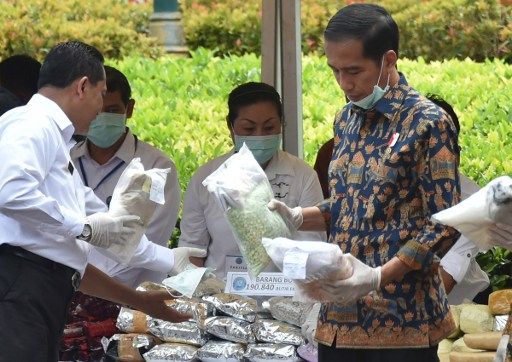 President Jokowi takes a look at seized drugs before they were destroyed at a ceremony at the
National Monument here Dec. 6, 2016.
Indonesian President Joko Widodo, popularly known as Jokowi,  on Tuesday declared a big war against drug as the country has been on emergency against the danger of drug abuses, news agencies reported.
President Jokowi revealed that over 15,000 Indonesian citizens were killed by drug annually. "…once again, we must declare a big war against narcotic," Widodo said.
According to Xinhua, President Widodo remained that most of the victims of drug abuses were Indonesian youngsters.
"A total of over 15,000 our young generation dies every year due to narcotics," he said.
Widodo hinted that the number of drug dealers undergoing death penalty was significantly lower that the number of the victim.
President Widodo has taken stern actions against drug offenders, including his rejection on dozens of requests for clemency by drug dealers who had been in a raw for death penalty.
Jokowi stated this when witnessing the destruction of drug case evidence at the Natonal Monument complex here Tuesday, Antara reported.
This year, Indonesia executed four drug convicts, including foreigners, after 14 people convicted of drug crimes faced a firing squad last year.
Around 445 kilograms of methamphetamine, 190,000 ecstasy pills, 422 kilogram of dry hashish and 323,000 happy five pills were destroyed at the Monas Square in front of the president, number of cabinet ministers, military and police leaders as well as head of the National Anri Drug Agency (BNN) Com.Gen. Budi Waseso. (T/R07/R01)
Mi'raj Islamic News Agency (MINA)