Indonesian NGO Aqsa Working Group Holds Webinar Opposing Israeli Football Team to Enter Indonesia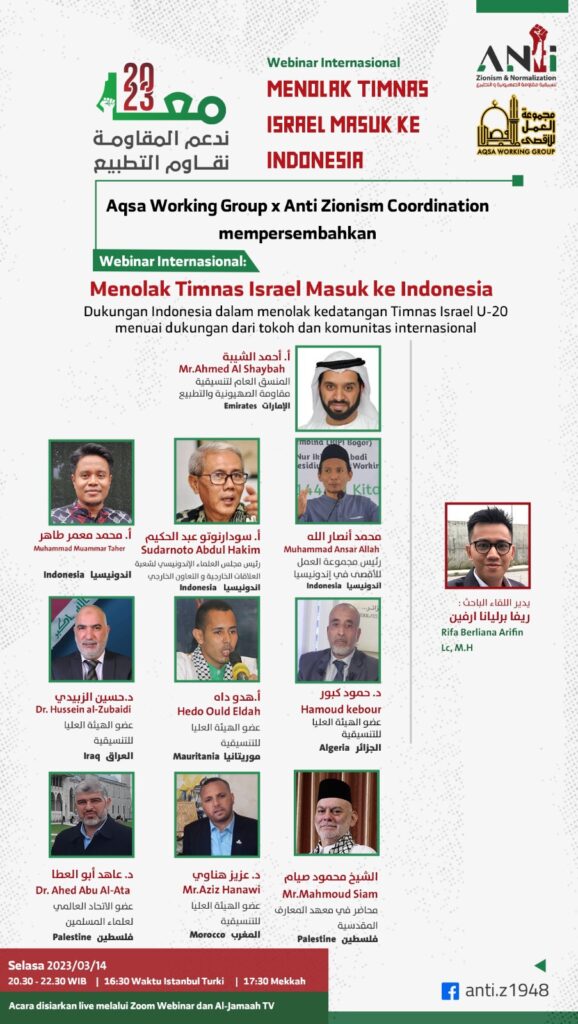 Jakarta, MINA – Indonesian humanitarian agency Aqsa Working Group (AWG) as one of the institutions that consistently advocates for the liberation of the Al-Aqsa Mosque and the independence of Palestine together with the Anti-Zionism and Normalization institutions, Thursday, Machr 14, hold an international webinar opposing the Israeli football national team to enter Indonesia.
Chairman of the AWG Presidium, Nur Ikhwan Abadi told MINA on Tuesday, this activity was a form of consistency for the Indonesian people in supporting the liberation of the Al-Aqsa Mosque and independence for the Palestinian people.
"This consistency is not just a form of concern but also a constitutional mandate stipulated in the 1945 Constitution and was championed from the start by Indonesia's first president, Ir. Sukarno," he said firmly.
The Israeli national football team is scheduled to enter Indonesia to compete in the 2023 U-20 World Cup. Will this be one of the agendas to normalize Indonesian-Israeli relations and eliminate the love of Palestine in Indonesia or is this just a football match.
Presenting as speakers from within and outside the country included Ustadz Ahmed Al Shaybah, General Coordinator for the Coordination of Resistance to Zionism and Normalization, who is also President of the Emirates Association for Resistance to Normalization, Ustadz Muhammad Ansarullah, Presidium of the Aqsa Working Group, Dr. Abdul Aziz 'Alyan, Director General of the Coordinating Committee, who is also a researcher and academic in Israel studies.
Besides that, Prof. Sudarnoto, Chairman of the Indonesian Ulema Council for Foreign Relations and International Cooperation, Ustadz Aziz Hanawi, Member of the High Committee for the Coordination of Resistance to Zionism and Normalization, who is also the general author of the Moroccan Observatory, dr. Sarbini Chair of the Presidium of the Medical Emergency Rescue Committee (MER-C).
Also speaking at the webinar, Ustadz Hammoud Kabour, member of the Higher Committee for the Coordination of Against Zionism and Normalization who is also head of the Palestine Section in the Algerian Construction Movement and Dr. Ahed Abu Al-Ata, member of the International Union of Muslim Scholars.
The event was hosted by Rifa Berliana Arifin Lc, MH, Chief Editor of Arabic for the MINA Islamic News Agency. (T/RE1/P2)
Mi'raj News Agency (MINA)