Indonesia to Discuss Palestinian Issues in UNSC's Presidential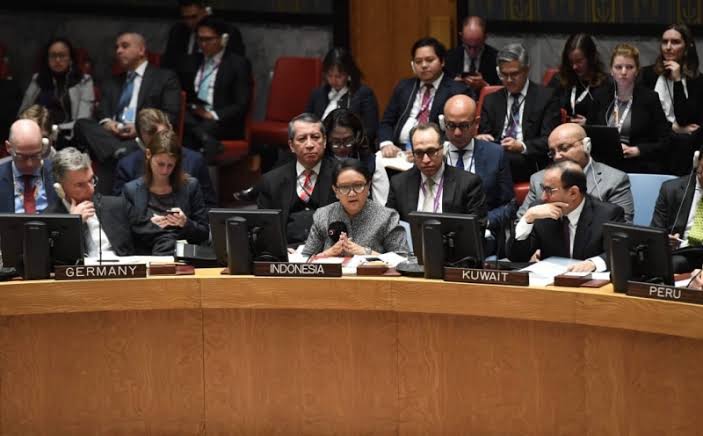 (Ministry of Foreign Affairs doc)
Jakarta, MINA – Indonesia Becomes President in the UN Security Council (UNSC) from 1 May to 30 May 2019, by raising the issue of "Peacekeeping Operation" including Palestinian peace which has become a commitment and priority of Indonesian government.
The Director General of Multilateral Cooperation of Ministry of Foreign Affairs, Febrian Alphyanto Ruddyard said that the issue of peace in Palestine would be discussed in an informal discussion or "Arria Formula" on May 5 at the UN Headquarters, New York, focuses on Israel illegal settler who plundered Palestinian land.
"This issue is sensitive and in UN Resolutions no 2334 (2016), in terms of legal and humanitarian aspects so that it can be implemented by other UN members," Ruddyard explained to reporters on Thursday.
According to Ruddyard, the discussion was intended to raise issue of Palestine, so, it is not drowned out by other issues such as Yemen, Syria and others.
Indonesian Foreign Minister, Retno Marsudi is scheduled to open the agenda and a number of speakers will be presented, including a video conference with one of the Palestinian fighters on the west bank and human rights defenders from Israel.
Although there are no formal results, Ruddyard is optimistic that the forum can increase the commitment and awareness of other member countries on Palestinian issue, especially the threat of Israeli illegal settlements.
In addition, Indonesia on the UN Security Council will hold two open debate agendas with the theme "Sowing the Seeds of Peace" which will be held on May 7, 2019 and on May 23, 2019 with the theme "Protection of Civilian Society from Armed Conflict".
The two agendas will also be chaired by Foreign Minister Retno and filled with a number of speakers, one of them is the UN Secretary General, Antonio Guterres.
According to Ruddyard, the presence of UN Secretary General could be a recognition of Indonesia's contribution to world peace and the theme in line with current UN mission.
Meanwhile, on the upcoming May 6-17, there will be a photo exhibition of various forms of Indonesia's contribution to world peace and prosperity.
At the end of Indonesia's activities as president at the UNSC Presidential, there are Diplomatic Reception and cultural performances will be held on May 30 with the aim of displaying cultural wealth and supporting the campaign for the nomination of Indonesian Human Rights Council.
Ruddyard said that the opportunity for Indonesia to become President of the UN Security Council for a month would be utilized as well as possible with various agendas to promote peace and recognition of Indonesia's leadership in international world. (L/Sj/R04)
Mi'raj News Agency (MINA)