HRW: Senior Israeli Officials Support 'Shoot-To-Kill' Policy Against Palestinians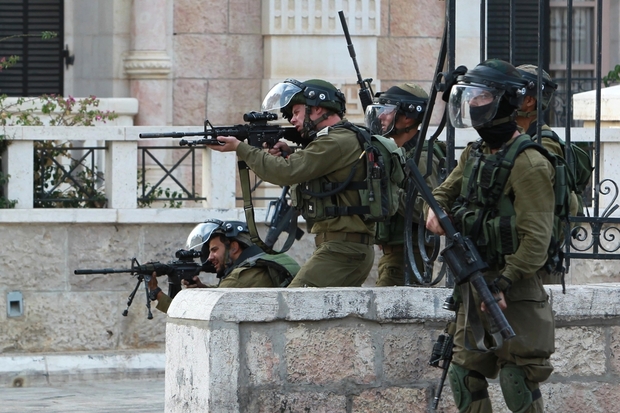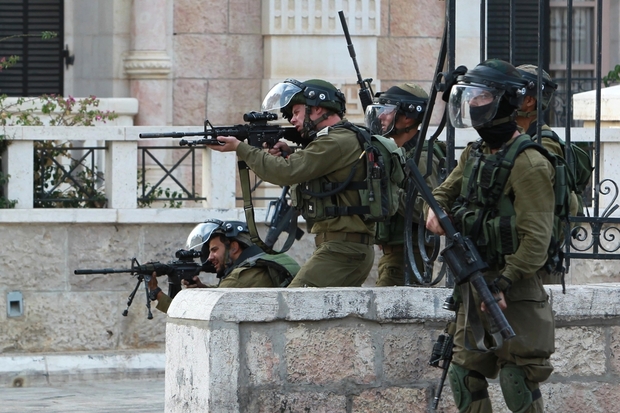 Israeli soldiers aim towards Palestinian youths during clashes in the West Bank town of Hebron
Bethelhem, 05 Rabiul Akhir 1438/04 January 2017 (MINA) – In a report released Monday from Human Rights Watch (HRW), the group outlined instances when senior Israeli officials have either openly called for the extra-judicial killing of Palestinians or have failed to condemn the calls.
According to the group, there have been more than 150 instances since October 2015 where Israeli forces have "fatally shot Palestinian adults and children suspected of trying to stab, run over, or shoot Israelis in Israel and the West Bank."
The killings have been condemned by rights groups who say that at many times the alleged Palestinian assailants have been killed after they no longer posed a threat.
HRW said in the report that since 2015, the group had documented "numerous statements" made by senior Israeli politicians, including Israel's defense minister and police minister "calling on police and soldiers to shoot to kill suspected attackers, irrespective of whether lethal force is actually strictly necessary to protect life."
Sari Bashi, the Israel advocacy director at HRW said in the report that "it's not just about potentially rogue soldiers, but also about senior Israeli officials who publicly tell security forces to unlawfully shoot to kill."
"Whatever the results of trials of individual soldiers, the Israeli government should issue clear directives to use force only in accordance with international law.
The report highlighted that according to international human rights law, the use of lethal live fire — "shoot to kill" — is only permissible in situations where it is "strictly necessary to protect life" and when no less lethal option is available.
However, "the Israeli open fire regulations do not note this limitation but do limit shooting at a person's torso or head to situations in which it is necessary to prevent an imminent threat of death or serious bodily injury." the report said.
The group highlighted that calls by Israeli officials, and the inaction of others, "deviate from both international standards and the Israeli rules of engagement."
"With some notable exceptions, senior Israeli officials, including those who command security officers, have in some cases called for excessive use of force and in other cases failed to condemn such calls by others."
Widespread support among Israeli citizens,
The report highlighted the case of Ishaq Badran, 16, from Kafr Aqab, was was killed after carrying out an alleged stabbing attack in the Old City of Jerusalem, leading Jerusalem Police District Commander Moshe Edri to publicly state that "the police are doing their job and arriving quickly.
Within less than a minute and a half, the attacker had already been killed. Everyone who stabs Jews or harms innocent people – should be killed."
Meanwhile, Israeli Police Minister Gilad Erdan also stated in October 2015 that "every attacker who sets out to inflict harm should know that he will likely not survive the attack."
The group also underscored the reactions of senior Israeli officials in the aftermath of the killing of Abd al-Fattah al-Sharif in the occupied West Bank district of Hebron. The 21-year-old was shot point-blank in the head by Israeli soldier Elor Azarya — now currently on trial for manslaughter — while he was lying wounded on the ground after an alleged attempted stabbing.
The incident was caught on film and received widespread condemnation from rights groups around the world who claimed the incident represented an extrajudicial execution of the immobilized young man.
Senior Israeli officials, including Netanyahu and then Defense Minister Moshe Yaalon, initially called for the recognition of the Israeli military's "rules of engagement," HRW noted, but Yaalon was then replaced with ultraright Avigdor Lieberman as Defense Minister who in 2015 publicly stated his support for killing alleged Palestinian attackers, writing on his Facebook page: "No attacker, male or female, should make it out of any attack alive."
Several other Israeli officials have also made similar statements.
HRW encouraged Israeli leaders to condemn such statements and affirm international human rights law that restricts lethal force to life-threatening situations.
"In some cases, officials directly responsible for the conduct of law enforcement officers have publicly encouraged them to kill rather than to arrest suspected attackers when feasible," the report read.
"In other cases, senior political and religious officials who are employed and paid by the government have encouraged the killing of suspected Palestinian attackers, and other senior officials have failed to repudiate those statements."
The report added that while Israeli authorities conduct internal criminal investigations into every case which results in a fatality, Azarya remained the only Israeli official to be charged with the death of a Palestinian in the previous year.
Israeli Rabbis were also implicated in the report as being complicit in supporting the shoot to kill policy, as the group pointed out that Rabbi Yitzhak Yosef, Israels's Chief Sephardic Rabbi said last year that "Whoever comes to kill you, rise up and kill him first.' … let them afterward take you to the High Court of Justice or bring some military chief of staff who will say something else…"
"As soon as an attacker knows that if he comes with a knife, he won't return alive, it will deter them. That's why it's a religious commandment to kill him," he added.
While Israeli rabbis do not hold any direct power over Israeli military forces, they hold powerful influence over the public, with HRW noting that during the 2005 "disengagement" of the now besieged Gaza Strip, Israeli soldiers who refused to dismantle the illegal Israeli settlements "cited rabbinical commandments as justification."
While several rights groups have called on Israel to "rein in excessive use of force," the report noted that Israel's shoot to kill policy has received widespread support among Israeli citizens, citing a 2016 poll by the Israel Democracy Institute which found that 47 percent of Jewish Israelis supported the sentiment that "any Palestinian who carries out a terror attack against Jews should be killed on the spot, even if he has been captured and clearly does not pose a threat."
According to Ma'an documentation, at least 246 Palestinians have been killed by Israeli forces since October 2015 when a wave of unrest spread throughout the occupied Palestinian territory and Israel, the majority of whom were shot dead by Israeli forces for allegedly or actually attempting to commit attacks on Israelis. (T/RS05/RS01)
Mi'raj Islamic News Agency (MINA)