HANIYEH : PALESTINIAN CAUSE AT TURNING POINT, BUT REQUIRES POLITICAL WILL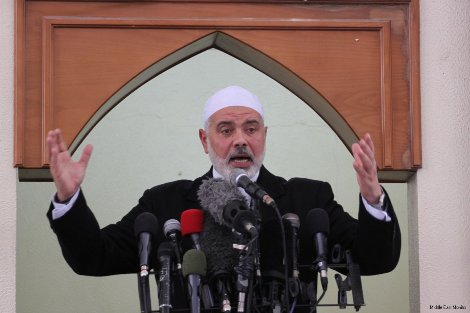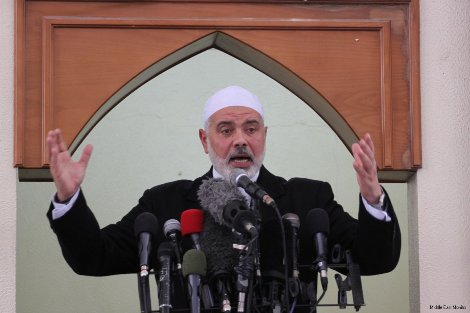 Gaza, 16 Jumadil Awwal 1436/7 March 2015 (MINA) – Ismail Haniyeh, deputy head of the political bureau of Hamas, said the national unity government train still has not reached its desired station, which requires the application of all reconciliation agreements.
During his Friday prayer sermon in Al-Katiba Mosque in Gaza, Haniyeh said that there had been an agreement on five issues in the reconciliation agreement, i.e. the formation of the government, activating the Palestinian legislative Council, holding legislative elections, community reconciliation, and activating the leadership framework of the PLO.
He also noted that government was formed, but all the other issues were suspended, adding that the leadership hadn't met since the formation of the government, Middle East Monitor (MEMO) quoted by Mi'raj Islamic News Agency (MINA) as reporting, Saturday.
"The government must bear all its responsibilities in Gaza and the West Bank," pointing out the fact that there are three main tasks assigned to the government: reconstruction, preparing for elections, and unifying the Palestinian institutions in Gaza and the West Bank.
Haniyeh also stressed that the Palestinian cause is at a turning point that requires political will in order for the people to devote themselves to their core cause, which is Jerusalem and Al-Aqsa Mosque.
In this context, Haniyeh stated that the decisions made by the PLO Central Council in which it announced the end of security coordination with the occupation were "a step in the right direction", calling for its immediate implementation.
"The true test of these decisions is its transformation from theory to practical implementation," calling for the end of security coordination and negotiations with the occupation and urged the building of a unified national strategy.
During the PLO Central Council's closing session of its two-day meeting in Ramallah yesterday evening, it decided to stop all forms of security coordination with Israel and to hold Israel responsible for the Palestinian people as an occupying force.
In a separate context, the deputy head of the political bureau of Hamas rejected the Egyptian court's decisions against Hamas and Al-Qassam Brigades.
He stressed that these decisions reflected a departure from the Egyptian constants, not the Palestinian constants, adding "we will leave the address of the judicial situation in Egypt to our brothers there."
Haniyeh also noted that Hamas has no security or military intervention in Sinai or anywhere else in Egypt or the Arab world. He added, "We respect Egypt's national security and would never harm it. We have never thought about harming Egyptian or Arab national security." (T/P002/R03)
Mi'raj Islamic News Agency (MINA)