NEW GAZAN ROCKET R 160 SHAKES ISRAELI OCCUPIED HAIFA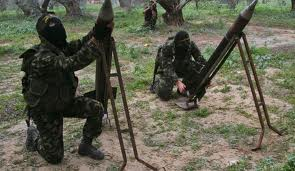 Gaza, 12 Ramadan 1435/10 July 2014 (MINA) – Gazan rocket R 160 made by the resistance movement Hamas's military wing, Izzudin al-Qassam Brigades successfully reached Israeli occupied  Haifa territory around 150 miles north of the Gaza Strip, Tuesday night.
Al-Qassam through some local media announced the rocket has successfully shaken Haifa, Mi'raj Islamic News Agency (MINA) correspondent reported from Gaza.
Sound of takbir in mosques echoed across Gaza, when announced the news. In this war, Al-Qassam gave a shocks to Zionist Israel who has been attacking brutally to Gazans since a week ago.
R 160 is the latest Al-Qassam rockets. Initial R refers to the rocket champions in Gaza Abdul Aziz Rantisi, one of the Hamas  leaders who martyr shot by Israeli troops in March 2004.
"While the number 160 is a rocket mileage," said Hamas in its release.
Meanwhile, at least four rockets M 75 belongs to Al-Qassam also reached several towns of Israeli settlers. Takbir of worshipers cries echoing from Al-Aqsa mosque welcomed the rocket from Gaza.
Since the beginning of Ramadan Israeli occupation has been attacking Gaza using F-16 fighter aircraft, drones and apache.
The northern part of the Gaza Strip is the area that intensity exposed the attacks. Zionist Israel since last three weeks continuously bombarded the empty area around there.
Until now, the Palestinian Ministry of Health in Gaza said 17 people had died and 122 others were wounded in the latest Israeli air strikes since early Tuesday.
On Tuesday, a peddler died from drone missile attacks, around 150 meters from the Indonesia  hospital. Indonesian Darul Quran Tahfidz building was also targeted by the missiles launched from aircraft F-16.
Israeli media also reported Netanyahu and its military has ordered to carry out ground attack on Gaza.
Israel immediately declared the state of emergency war (L/Syt/P04)
Mi'raj Islamic News Agency (MINA)