WHAT ARE WE DOING IN GAZA STRIP? ISRAELI TROOPS ASK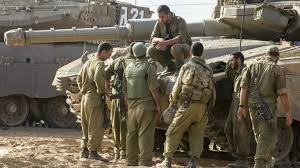 Tel Aviv, 12 Shawwal 1435/8 August 2014 (MINA) – An organization of veteran Israeli occupation regime combatants says many Israeli soldiers have questioned Tel Aviv's occupation regime aggression on the Gaza Strip, as Israel occupation regime stations its forces along the border with the besieged Palestinian enclave in preparation for yet another possible offensive.
Yehuda Shaul, co-founder of Breaking the Silence organization, told RT on Wednesday that "There are a lot of soldiers who come back and say to themselves, 'What the hell are we doing here? Why are we using so much force? Why are we treating them this way?'"
A rising number of occupation regime soldiers have reportedly decided not to continue working with the army, Press TV quoted by Mi'raj Islamic News Agency (MINA) as reporting, Friday.
A group of 50 reserve Israeli occupation regime soldiers signed an open letter to the Washington Post last month, expressing their opposition to Israel's current military operations in Gaza.
"To us, the current military operation and the way militarization affects Israeli society are inseparable. In Israel, war is not merely politics by other means; it replaces politics. Israel occupation regime is no longer able to think about a solution to a political conflict except in terms of physical might; no wonder it is prone to never-ending cycles of mortal violence," the letter said.
Israel occupation regime has gone to war five times in the past eight years, three of them were against Gazans.
The Israeli occupation regime's military attacks on the Gaza Strip claimed the lives of nearly 1,900 Palestinians, including more than 400 children, and wounded over 9,500 others.
A 72-hour humanitarian truce between the Palestinian resistance movement Hamas and Israel occupation regime took effect at 8 a.m. (0500 GMT) on Tuesday.
Meanwhile, Israeli tanks were stationed near the Gaza border on Thursday, as the ceasefire is about to end. (T/E01/IR)
Mi'raj Islamic News Agency (MINA)