THREE GAZA AL-QUR'AN STUDENTS VISIT INDONESIA AL-FATAH SCHOOL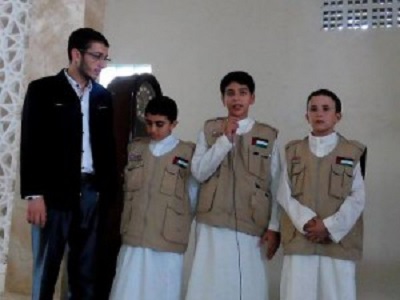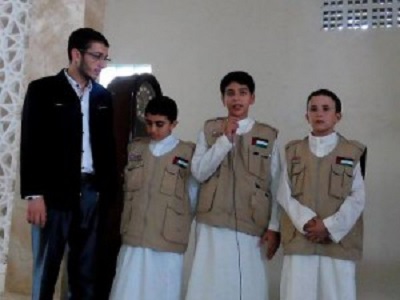 Bogor, 18 Shafar 1436/11 December 2014 (MINA) – Three Gaza Students from Daarul Al-Qur'an Islamic Boarding school, Gaza, visited Al Fatah Islamic Boarding school , Cileungsi, Bogor, on Wednesday.
They are Husen Albasliqy (15 years old), Salem Emadduddien Al Amasy (12) and Omar Muhammad Abu AlHusna (13). The students have memorized 30 chapters of Al-Qur'an. They were accompanied by their teacher Muhammad Qaddoura (24).
"We learn and memorize the Al-Qur'an in a war location. Our homes are bombed by Israel, but it do not break our spirit to continue memorizing the Al-Qur'an" said Husen when conveying his impression in memorizing Al-Qur'an in at Taqwa mosque, Al Fatah Islamic Boarding school , Cileungsi, Bogor.
He said, he had faced some challenges in memorizing the Al-Qur'an. It was in contrast with Indonesia condition which did not in war situation.
He advised the Indonesian students to manage their time to memorize the Al-Qur'an. "Though in difficult conditions, praise be only to Allah we can continue our memorization and finish until 30 chapters just in few months," he added.
Salem also suggested Muslim should not leave Al-Qur'an because it is the guide for human beings in their life and the hereafter. "We are experiencing some difficulties due to lack of facilities and we have to find another way. The obstacles do not reduce our spirit," he said.
"We believe to Allah that He will always help and guide us," he added.
The three students have attended the fifth graduation ceremony of Al-Qur'an at Gelora Bung Karno, Jakarta, Indonesia on October 25, 2014. (L /P009/R03)
Mi'raj Islamic News Agency (MINA)
http://mirajnews.com/id/uncategorized/tiga-siswa-tahfidz-quran-gaza-kunjungi-ponpes-al-fatah/