BSP 2023, Al-Fatah Cileungsi Islamic Boarding School Holds Al-Aqsa Love Festival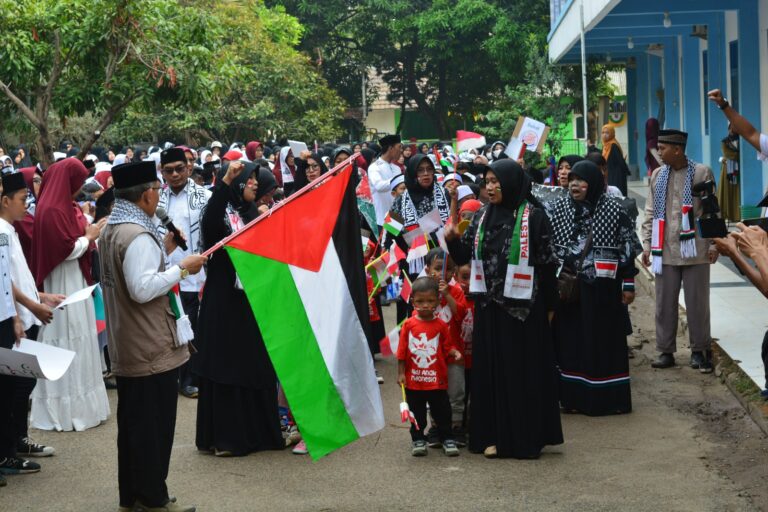 Cileungsi, Bogor, MINA – In order to enliven the 2023 Palestine Solidarity Month (BSP), Al-Fatah Islamic Boarding School Cileungsi, Bogor Regency held a series of events at the Al-Aqsa Love Festival initiated by Aqsa Working Group (AWG).
The Al-Aqsa Love Festival was held for two days, with a parade and raising of the Indonesian-Palestinian flag on Saturday as well as quiz competitions, culinary creations, speeches and poetry on Sunday.
The parade and flag-raising activities involved all Al-Fatah Islamic Boarding School students with a total of more than 500 children, from RA, TK, Paud, MI, MTs, MA, and all asatiz/asatizah levels.
"By involving children in BSP, it means we are regenerating, and regeneration is what the Zionists fear most. "If we see, the Zionists are directing the killing of children, because in 10 or 15 years it will be a continuation of the struggle," said the administrator of the Al-Fatah Indonesian Islamic Boarding School network, Imaam Yakhsyaallah Mansur, to MINA on Saturday.
"So involving these children is a very good step," he said.
Furthermore, Imaam Yakhsyallah advised that the implementation of the BSP could continue until completion and involve all components of society, even non-Muslims if necessary, so that this becomes a humanitarian activity, not just a religious one.
"Of course we all have to take several steps. The first, (involving) Muslims. Second, we involve non-Muslim people. "And thirdly, it is very important to attract support from the government, because in essence we are carrying out this activity not only religiously, but humanitarianly, also constitutionally, where the 1945 Constitution is about the independence of all nations," he said.
Apart from Al-Fatah Islamic Boarding School, 2023 Palestine Solidarity Month (BSP) activities were also held at SMP-IT/SMA-IT Insan Mandiri Cibubur, Bekasi, with swimming, archery competitions and a futsal tournament. These competitions are open to kindergarten to high school levels throughout Jakarta greater.
The series of events for the 2023 Palestine Solidarity Month (BSP) will be held for a whole month, 1-29 November 2023 / 17 Robiul Akhir – 15 Jumadil Awal 1445 AH in Jakarta and spread throughout Indonesia, as well as several pro-Palestinian countries in the world.
There are 12 series of events at BSP 2023, namely the Cinta Aqsa Festival, Daurah Al-Quds/International Discussion, Workshop, Photo Exhibition, Millennial Peacemaker Forum Talkshow, Football Competition, Gowes Cinta Al-Aqsa, Raising the Indonesian and Palestinian Flags at the Top of the Mountain, Flag Raising at Mosques, as well as Social Services. (T/RE1/P2)
Mi'raj News Agency (MINA)