BAY AREA MUSLIMS LOBBY SACRAMENTO SENATE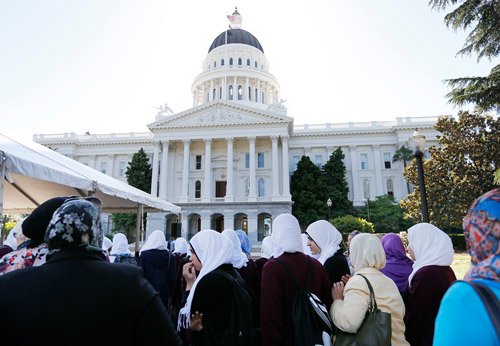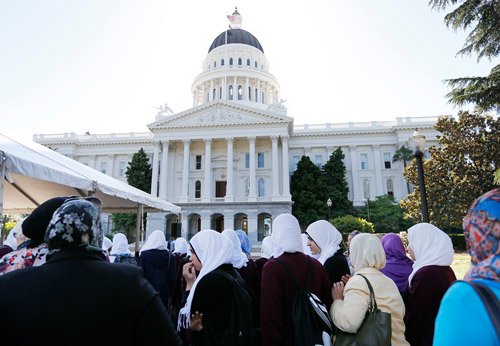 California, 10 Rajab 1436/29 April 2015 (MINA) – Lobbying for the right to have their voices heard, hundreds of Bay Area Muslims met with legislators at the State Capitol Building in Sacramento on Monday for "Lobby Day", where lawmakers were asked to back bills that would boost wages for women, temporarily freeze tuition for in-state college students and preserve Californians' privacy.
Organized by the Council on American-Islamic Relations (CAIR), the Lobby Day event was attended by Muslim students, business owners and community leaders from throughout California, On Islam quoted by Mi'raj Islamic News Agency (MINA) as reporting.
Osman Khan, a teacher at Granada Islamic School in Santa Clara, brought his middle-school students to Sacramento so they could see the processes they learned about in a U.S. history class in action. The better they understand state government, the more active they'll become, he stated in a Mercury News report on Tuesday, April 28.
"We're not here just to advocate for Muslim causes. We're American citizens, and we want our voices to become part of the American narrative."
Speaking to state Sen. Bob Wieckowski, D-Fremont, Khan's students eloquently spoke of the African-American women and Latinas who are unfairly paid as opposed to the salary Caucasian men are paid for the same work.
Wieckowski called the equal pay issue "fundamentally unfair" and pledged to vote for the Jackson's sponsored California Fair Pay Act (SB 358) which, as amended, would better regulate the gender wage differential.
Muslim students also asserted that higher education remains largely unaffordable for families and students in lower income brackets.
Also attending the Lobby Day event was Saratoga resident Taj Noori, 69, of the West Valley Muslim Association who came to raise lawmakers' awareness about California's growing Muslim community and to represent the interests of her mosque. "They should know we are active," she said.
On his part, Noori's husband Qamar, 71, led a small group discussion with Assemblyman Richard Gordon, D-Menlo Park, concerning surveillance of American communications online; the subject of Senate Bill 178 (2015-2016).
Mercury News reported that Gordon declined to share his position SB 178, sponsored by Sen. Mark Leno, D-San Francisco however, he did express concern that law enforcement officers unfairly targeted Muslims and other ethnic and religious groups.
"We need to protect these people from illegal breaches of their personal information," Gordon said.
In a report published by the Institute for Social Policy and Understanding titled, The Bay Area Muslim Study, the San Francisco Bay Area has one of the largest Muslim populations in the United States: nearly 250,000 Muslims living in the six counties surrounding the city of San Francisco.
The community, which constitutes one of the nation's highest concentrations, comprises approximately 3.5 percent of the total Bay Area population of over seven million according to a 2010 census.
The study also states that the Bay Area is home to a large number of immigrants who sought economic and educational opportunities, as well as refugees and their American-born children who fled strife, violence, and economic hardship. Many work in Silicon Valley, but survey results show the existence of clear regional socioeconomic disparities.
This region is also attractive to immigrants because its diverse and inclusive atmosphere allows religious and cultural diversity to flourish.
It also hosts a significant African American Muslim community and a growing number of converts.
The community is made up of a diverse mix of racial and ethnic groups who maintain their own cultures: South Asians (30%), Arabs (23%), Afghans (17%), African Americans (9%), Asian/Pacific Islanders (7%), Whites (6%), and Iranians (2%).
Based on the survey findings, the majority of Muslims live in the counties of Alameda (37%), Santa Clara (27%), and Contra Costa (12%).
The Pew Research Center, which has conducted the most scientifically sound study, estimated that there were 2.75 million Muslim in the United States in 2011. (T/P006/R03)
Mi'raj Islamic News Agency (MINA)