Asian Games) South Korea Falls Short of Gold Medal Target in Jakarta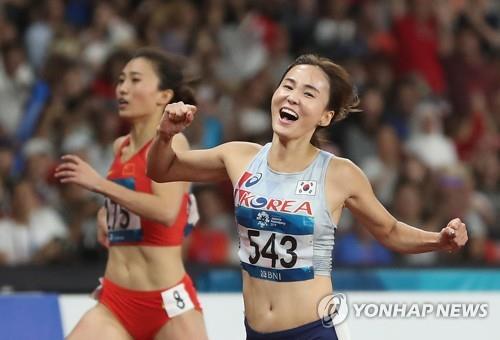 Jakarta, MINA — South Korea arrived in Indonesia with a goal of winning at least 65 gold medals at the 18th Asian Games. But when the quadrennial competition, co-hosted by Jakarta and Palembang, wraps up Sunday, Team Korea will leave having bagged 49 gold medals.
South Korea didn't just fall short of its gold medal target. The country was hoping to fend off Japan for second place in the medal table for the sixth consecutive event — with China once again far ahead of everyone else — and South Korea ended up in third place behind its rival, Yonhap reported.
South Korea won 76 and then 79 gold medals at the past two Asian Games. This year's total is the lowest since 54 at Beijing 1990.
The last time South Korea ranked behind Japan was Hiroshima 1994, when Japan nipped South Korea by one gold medal, 64 to 63.
South Korea was closer to fourth place Indonesia than it was to Japan. The host country collected 31 gold medals to set its all-time record.
South Korea continued to struggle in athletics and swimming, the two sports that offered the most gold medals. China scooped up 19 gold medals in swimming and 12 in athletics, while Japan equaled China's gold medal tally in swimming and added six from track and field.
South Korea won a meager one gold each from athletics and swimming.
That's a difference of 23 gold medals between South Korea and Japan. And that doesn't even tell the whole story.
Japan's success
Japan was able to surpass South Korea while ushering in a new generation of elite athletes. There was no better symbol for that success than the 18-year-old swimming sensation Rikako Ikee, who won a competition-best six gold medals, along with two silver medals.
Japan has left some of its top athletes at home for recent Asian Games, so they could focus on world championships or other international events in their respective sports. But with the Tokyo Olympics about two years away, Japan sent some of its best to Indonesia to see how they would stack up against the regional competition.
The Korean Sports and Olympic Committee (KSOC) believes Japan has set an example for South Korea to follow, in terms of how it has capitalized on the strong foundation of sport for all, or mass participation sports, to produce elite sport athletes.
For years, South Korea has been grappling with a lack of talent in athletics and swimming and the need to win medals from a wider range of sports. While the struggles continued in track and field and in the swimming pool here, South Korea also didn't help itself in some of its usual gold mines.
In taekwondo, South Korea managed only three out of 10 gold medals in sparring, and two out of four in poomsae. In archery, South Korea was looking for a sweep of eight gold medals but ended up getting half of that.
"We'll have to undergo a paradigm shift," said KSOC President Lee Kee-heung. "We'll have to promote school sports and sports clubs, and we'll have to change our system so that our elite athletes will come from that foundation." (T/RS5/RS1)
Mi'raj Islamic News Agency (MINA)