ABBAS WEIGHS INTL ACTION AGAINST ISRAEL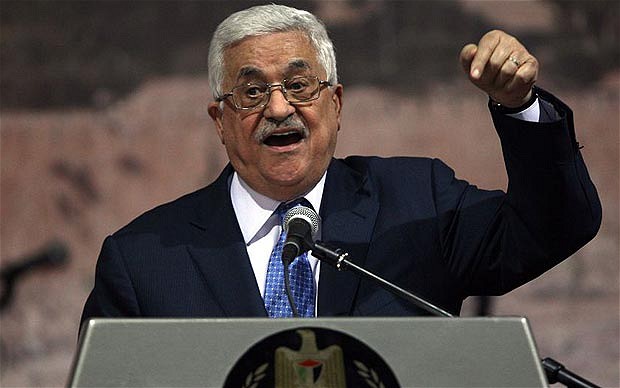 New York, 28 Dzulqa'dah 1435/23 September 2014 (MINA) – President Mahmoud Abbas says the Palestinian leadership is close to deciding if it will file complaints against Israel at United Nations institutions and courts in November.
He said the leadership would act regardless of threats from either Israel or the United States.
Speaking to Ma'an during his flight to New York, quoted by Mi'raj Islamic News Agency (MINA) as reporti, Abbas said the PA was considering possible moves in response to settlement projects which the government of Benjamin Netanyahu is trying to carry out in the West Bank following the military offensive against the Gaza Strip.
Asked about rebuilding war-torn Gaza, the president was cautious in his remarks.
"Reconstruction of Gaza is possible through the national consensus government and through cooperation between Hamas and the Palestine Liberation Organization, and this cooperation must be agreed on quickly between the delegations of Hamas and Fatah to Cairo."
Abbas refused to give further details about when and how the reconstruction of Gaza would be implemented.
"There will be a conference on the reconstruction of Gaza on Oct. 12, and if the PA will be able to return to Gaza, the airport and the seaport will be top priorities," Abbas said.
Abbas is scheduled to deliver a speech at the UN General Assembly and another speech at Cooper College.
During his stay in New York, he is scheduled to meet with Egyptian president Abd al-Fattah al-Sisi. The two are expected to discuss political issues of the region as well as the issues of the Rafah crossing and the illegal migration of Palestinians to Europe through Egypt.
Palestinian foreign minister Riyad al-Maliki told Ma'an that his ministry had started to prepare for signing the Rome Statute of the International Criminal Court.
The PA could sign the treaty before the end of 2014, he said.
"Israel will regret this golden time it wasted because of its stubbornness, boastfulness and the need to satisfy right-wing parties," al-Maliki warned. (T/P001/P3)
Mi'raj Islamic News Agency (MINA)