ZIONIST SETTTLERS BURN 100 OLIVE TREES NEAR NABLUS, OCCUPIED WEST BANK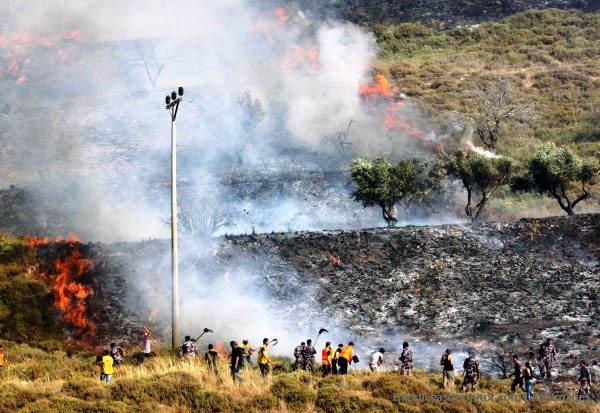 Nablus, Occupied West Bank, 30 Dzulhijjah 1435/24 October 2014 (MINA) – Extremist settlers set fire on Wednesday to agricultural lands in the town of Huwara, south of Nablus in the northern occupied West Bank, Al-Resalah newspaper reported.
According to Al-Resalah, the mayor of the town said that a group of masked settlers had sneaked onto the land in western Huwara and then poured incendiary fluids on the trees, setting them on fire, which led to the burning of at least one hundred olive trees, Middle East Monitor (MEMO) quoted by Mi'raj Islamic News Agency (MINA) as reporting, Friday.
The mayor also pointed out that Israeli occupation forces prevented Palestinian citizens from reaching the lands in order to extinguish the fire. Later on, the Israeli forces allowed the civil defence, existing in the adjacent Palestinian village of Burin, to access the fire and extinguish it, but only after it had expanded to an even larger area of land.
The mayor explained that the landowners had previously not been allowed any access to the lands that were burnt unless in coordination with the occupation forces, thus preventing them from harvesting their olives trees, and now it is too late.
The town of Huwara has witnessed continuous attacks carried out by Israeli settlers who come from the Yitzhar settlement and the surrounding colonies, where the settlers are known for their extremism and hostility towards Arabs.
According to Anadolu news agency. "Around 20,000 Jewish settlers live near Nablus in 39 Jewish-only settlements. Palestinian residents, for their part, complain of repeated attacks by settlers, who usually enjoy the protection of Israeli military personnel."
Settler attacks have recently escalated with the start of the olive harvest season, and several Palestinian towns have seen their crops stolen, olive trees cut and lands confiscated.
Settler attacks are almost universally condemned, but rarely punished. "In 2013, there were 399 incidents of settler violence against Palestinians in the occupied West Bank, according to the UN Office for the Coordination of Humanitarian Affairs," Anadolu reported. (T/P3/P2)
Mi'raj Islamic News Agency (MINA)