Vice President and Saudi Ambassador Discuss the Building of University of Sheikh Nawawi Al Bantani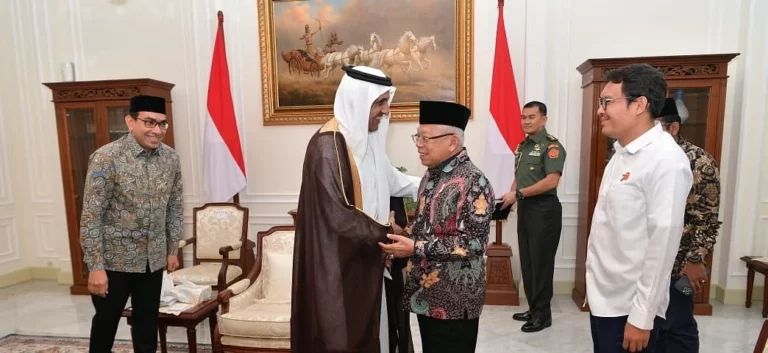 Banten, MINA – Indonesian Vice President Ma'ruf Amin met with the Ambassador of Saudi Arabia to the Republic of Indonesia Faisal bin Abdullah Al-Amudi in the Vice President's private resident, An-Nawawi Tanara (Penata) Islamic Boarding School, Serang, Banten on Sunday.
At the meeting, Vice President and Saudi Ambassador discuss plans for cooperation in developing the education sector, including the Sheikh Nawawi Tanara School of Fiqh Sciences to become University of Sheikh Nawawi Al-Bantani.
"We choose a NEM Sheikh Nawawi (University) because he was born here (Tanara)," the Vice President to Saudi Ambassador, as written statement in Jakarta.
The Vice President said, Sheikh Nawawi contunied his education and taught in Makkah. He passed away ini Makkah and buried in Al-Ma'la Cemetery, Makkah.
The Vice President added that Sheikh Nawawi also authored various book titles, not only in Saudi Arabia but also in Indonesia, totaling around 100 books using Arabic, such as Fiqh, Aqidah, Tafsir, and also gave birth to Muslim figures who founded Islamic organizations in Indonesia.
"Many of his students include the founder of Nahdlatul Ulama, Sheikh Hasyim Asyari, the founder of Muhammadiyyah, Sheikh Ahmad Dahlan, the founder of Tarbiyah Islamiyah, Sheikh Usman Ar-Rusli, and many more," explained the Vice President.
From this history, the Vice President emphasized that there is a special closeness between Tanara, where Sheikh Nawawi was born, and Saudi Arabia. (T/RE1/P2)
Mi'raj News Agency (MINA)