UPDATE: PALESTINIAN FIGHTERS ARREST ONE ISRAELI SOLDIER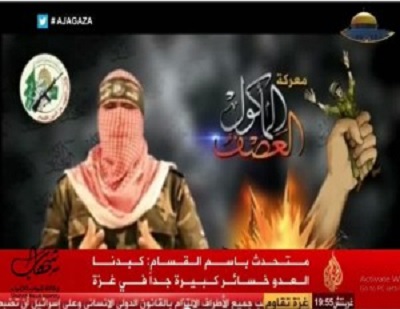 Gaza, 23 Ramadan 1435 /21 July 2014 (MINA) – Izzudin al-Qassam Brigade, military wing of Hamas, announced that they have arrested a Zionist soldier named "Shaul Aaron" with number of military identity 6092065.
The arrest done by al-Qassam operation in district of Tuffah, east of Gaza City which killed 14 Israeli soldiers and injured more than 50 people, including commander of brigade, Golani on Sunday.
Spokeman of al-Qasam, Abu Ubaida, in statement announced by local media, said that if enemy is not honest, al -Qassam will reveal the truth.
"Honesty of al-Qassam come when the Israeli occupation is not honest acknowledging actual death toll from their side. Large trauma caused by the operation has forced enemy recognizing most losses suffered," said Abu Ubaida.
Ubaida also confirmed that one thing not recognized by Israeli occupation was loss of one of their soldiers on Sunday.
Shaul Aaron was Israeli soldier captured by forces of Al Qassam, Sunday.
"When leaders of enemy can lie regarding number of died and wounded victims, they should be able to answer query about fate of his army now," Abu Ubaida added.
Al-Qassam Brigade also confirmed that last operation done by fighters in the east of Tuffah early morning would continue haunting the troops until the end of his life. It happened after special forces of al-Qassam trapping israeli soldiers who tried entering into eastern region of Tuffah, east of Gaza.
Al-Qassam added that they have trapped Israeli soldiers successfully by driving them into minefield that had been prepared in advance. Then fighters explode the minefield right under the Zionist military vehicles.
After that, forces of al-Qassam moved towards two military vehicles, opened both doors and killed all the passengers. As a result of the operation  14 Zionist soldiers killed. (L/K01/K02/Syt/E01)
Mi'raj Islamic News Agency (MINA)