UAE CALLS ON ALL COUNTRIES TO SUE ISRAEL FOR VIOLATIONS IN AL AQSA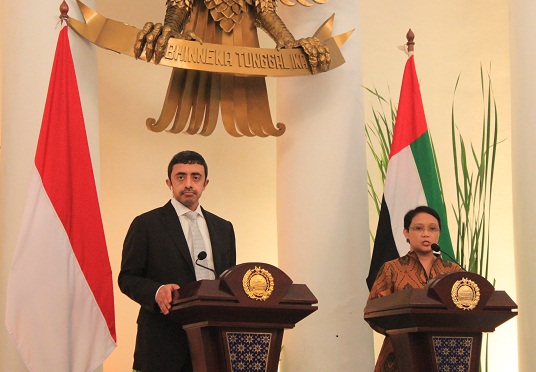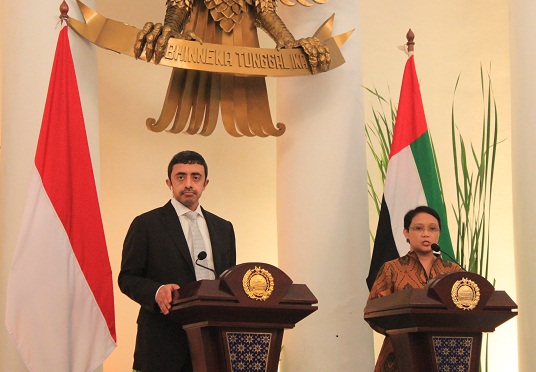 Jakarta, 11 Muharram 1436/4 November 2014 (MINA)  – The United Arab Emirates Foreign Minister Abdullah Bin Zayed Al-Nahyan called on all countries around the world to sue and challenge Israel for violations in occupied East Jerusalem following its decision to close Al-Aqsa Mosque compound.
"Let's challenge the Israeli government, making sure it wouldn't continue,"  Al-Nahyan said in a press conference after a bilateral meeting with Indonesian Foreign Minister Retno LP Marsudi  in Jakarta, Tuesday.
Abdullah said the ban on Muslim worshipers and the Palestinian civilians from entering  the Al-Aqsa Mosque is totally unacceptable, and the obligations of the world including the United Nations to stop Israeli violations in occupied East Jerusalem and Al-Aqsa Mosque compound.
"This is absolutely unacceptable, the UN  has obligation to stop such undermining acts against Islamic  heritages in the area," he stressed.
Israel continues to impose restrictions on Palestinians to enter Al-Aqsa mosque compound on Monday, closing most of  its gates and rejected of men under 50 years old to enter.
Director of Al-Aqsa Mosque, Sheikh Omar al-Kiswani, told Ma'an News Agency yesterday that the Hatta Gate, Lions Gate, Council Gate and Chain Gate were open, while the other gates remain closed. (L/R04/P3)
Mi'raj Islamic News Agency (MINA)