SDGs Must Respect Human Rights of Palestinians and Rohingyas: Indonesia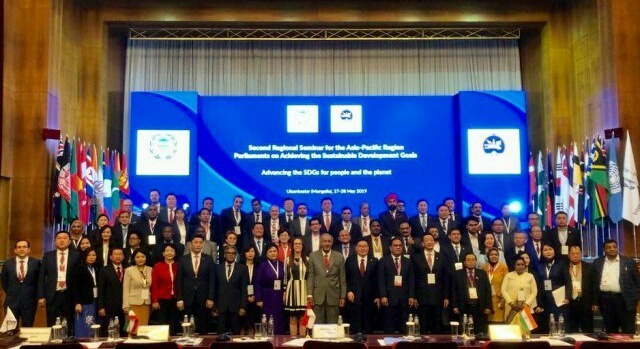 Chair of the Indonesian Parliamentary Inter-Parliamentary Cooperation Agency (BKSAP) Nurhayati Ali Assegaf attended Second Regional Seminar for The Asia-Pacific Region Parliament on Achieving The Sustainable Development Goals in Ulaanbaatar, Mongolia (Photo: Doc / mr)
Tokyo, MINA – Chair of Indonesian Parliament's Inter-Parliamentary Cooperation Agency (BKSAP) Nurhayati Ali Assegaf said that the United Nation (UN) Sustainable Development Goals (SDGs) would not mean without respecting Palestinian and Rohingya human rights.
It was conveyed by Nurhayati at the 2019 Women Political Leaders (WPL) Summit with theme "Taking Actions to Advance Society through SDGs" in Tokyo, Japan, at the end of last June, according to a release issued by Perlementaria on Thursday July 11.
According to Nurhayati, respecting the human rights of Palestinians and Rohingya is important as the fulfillment of basic human rights which are currently still problematic in both countries.
As the leader of delegation, Nurhayati stressed that the implementation and achievement of TPB must be inclusive including the fulfillment of Palestinian and Rohingya human rights.
As a non-permanent member of the UN Security Council, Indonesia continues to maintain its consistency in upholding human rights as mandated by the constitution. Indonesia's call for upholding human rights, especially for Palestinians and Rohingya, continues to be voiced by various international forums.
On the sidelines of summit, Nurhayati was again trusted as a member of World Political Leaders executive council until 2021. The 2019 WPL Summit in Tokyo was closed by Hanna Kritsjandottir, head of WPL Executive Board.
Hanna stressed that there needs to be an increase in advocacy in women's participation in all aspects. If with the current rhythm, Goal 5 in the form of gender equality will be achieved in 207 years. Hanna also announced that the upcoming WPL summit was held in New York, United States. (T/Sj/R04)
Mi'raj News Agency (MINA)