Reports: Abbas Says Would Meet with Lieberman if Latter Backs Two-State Solution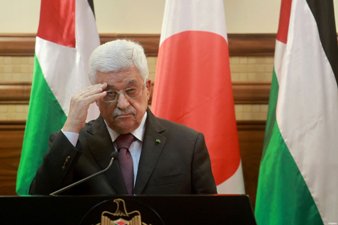 Bethlehem, 25 Sya'ban 1437/02 June 2016 (MINA)  –  During a meeting with Israeli mayors, Palestinian President Mahmoud Abbas stated his willingness to dialogue with Israel's newly-appointed Minister of Defense Avigdor Lieberman should the latter come out in support of a two-state solution, Israeli state radio Reshet Bet reported on Wednesday.
In his first comments on the appointment of Lieberman, a far-right Israeli politician, to the high-level post, Abbas reportedly stated on Tuesday that the Palestinian Authority (PA) would be "ready to start a dialogue with Lieberman if he expresses approval of the two-state solution."
Abbas added that the Palestinian Authority did not judge people based on their comments or political affiliations, but rather on their practices on the ground.
"If Lieberman shows that he really accepts the two-state solution, we will forget his previous remarks describing Palestinian diplomacy as terroristic," Reshet Bet quoted Abbas as saying.
Abbas' comments came as he received a delegation of Israeli municipality mayors in the presidential headquarters in Ramallah, with whom he discussed coexistence between Jewish Israelis and Palestinians and the two-state solution, official Palestinian state news agency WAFA reported.
Following Lieberman's swearing in, he and Israeli Prime Minister Benjamin Netanyahu issued a joint statement in support of reviving a 2002 Arab peace initiative for Israeli-Palestinian negotiations, which called for an Israeli withdrawal from the occupied Palestinian territory in exchange for full normalization of ties with Arab states.
Netanyahu and Lieberman also reiterated support for statements recently made by Egyptian President Abd al-Fattah al-Sisi promoting similar negotiations, and threw their support behind the two-state solution.
However, Israeli settlement watchdog Peace Now criticized the two Israeli politicians' declarations, saying they did not align with the Israeli government's policies on the ground in light of imminent settler construction plans in occupied East Jerusalem.
"While Netanyahu and Lieberman just backed the two-state solution, on the ground they are supporting actions that are making a future compromise much more difficult," the NGO said.
Rising tide of criticism
Abbas' statements come amid a rising tide of criticism against the PA and the PLO from Palestinian factions in recent months, primarily regarding the Palestinian leadership's ongoing security coordination with Israel and its support of a two-state solution as pushed by a French initiative for Israeli-Palestinian peace negotiations.
All past efforts towards peace negotiations have failed to end the decades-long Israeli military occupation or bring Palestinians closer to an independent contiguous state.
The most recent spate of negotiations led by the US collapsed in April 2014.
Israel claimed the process failed because the Palestinians refused to accept a US framework document outlining the way forward, while Palestinians pointed to Israel's ongoing settlement building and the government's refusal to release veteran prisoners.
A number of Palestinian activists have criticized pushes for a two-state solution as unsustainable and unlikely to bring durable peace, proposing instead a binational state with equal rights for Israelis and Palestinians.
The binational state — termed the "one-state solution" — has increasingly gained support among Palestinians, activist groups and intellectuals purporting it as the most reasonable way of upholding Palestinian human rights and their internationally recognized right to return to lands they were expelled from during and after the establishment of Israel in 1948.  (/R07/R01)
Mi'raj Islamic News Agency (MINA)