PROVEN AS ISRAEL AGENTS A WIFE SUBMIT HER HUSBAND TO GAZA SECURITY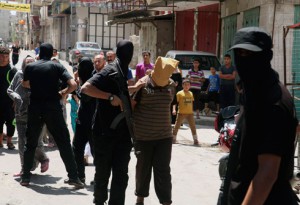 Gaza, 1 Dzulqa'dah 1435/27 August 2014 (MINA) – The security forces in Gaza revealed a wife had handed her husband which proved being a spy of the Zionist Israel occupation after convincing they will ensure the confidentiality of his identity.
After hearing a talk between her husband and Israeli intelligence officer, then she asked her husband to surrender to the security forces and she asked for a divorce," said Gaza security forces  in its press statement.
After the announcement of the arrested spy by Gaza security forces, then my husband phoned his relative who has a relationship with the security authorities and asked for help to be surrendered," said the wife.
"Then my husband waited in place, some people soon came and sat with him for hours and my husband admitted that he was a spy, and eventually he started a new chapter in his life," she said.
Mi'raj Islamic News Agency (MINA)'s Correspondent in Gaza also reported, a father also gave his son to the security forces in Gaza after they knew his son make a contact with Israeli officers, Shin Bet ten days ago.
At least thirteen spies have surrendered to the security forces of Gaza after the commencement of spy arresting operation since last Friday. The security forces said, they would keep their identities after the spy surrendered and made ​​a confession.
At the same time, security forces executed 18 people who have proven to be an agent of the Israeli spy. Eleven of them are executed at the police headquarters in west Gaza and seven were executed in front of the general public in front of  al-Omari Mosque of Gaza.
Meanwhile, Egyptian government announced permanent ceasefire agreement between Israel and Palestine that began on Tuesday 07:00 pm Gaza Time.
The agreement also announced by Palestinian President Mahmoud Abbas who appreciated the efforts of Egypt and all those who played a role in restoring peace to the Gaza Strip.
"We expressed high appreciation for the efforts of Egypt and all parties who have worked hard to reach the peace deal. Qatar also played a role in the deal. We also said that the Secretary of State John Kerry also contacted us for the same purpose, so we are grateful to all those who played a role in facilitating the ceasefire deal," said Abbas. (L/K01/P006/R03)
Mi'raj Islamic News Agency (MINA)