PROTESTERS IN CALIFORNIA PREVENT ISRAELI SHIP FROM DOCKING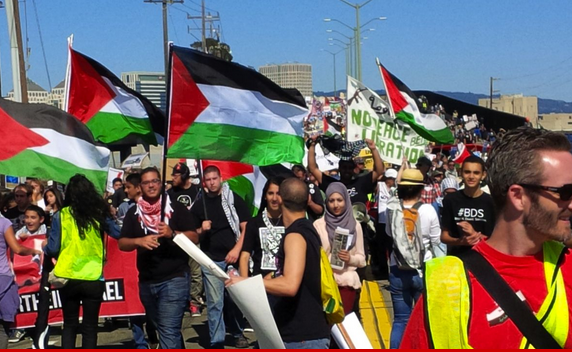 San Francisco, California, 22 Shawwal 1435/18 August 2014 (MINA) – In another sign of the increasing support for the international Boycott, Divestment and Sanctions (BDS) movement, activists in the state of California, on the Western coast of the US, successfully prevented an Israeli cargo ship from docking on Saturday (17/8).
The move comes amidst Israel's month-long military campaign against Palestinians in the Gaza Strip, which has so far killed almost 2,000 Palestinians and wounded thousands more, mostly civilians.
During this time, activists have been regularly staging protests in San Francisco, California against Israel's aggression, attracting thousands of participants.
According to Dr Paul Larudee, a co-founder of the Free Palestine movement, thousands of activists waving Palestinian flags turned out to blockade the Israeli cargo ship Ever Lasting, which pulled into a harbour in the San Francisco Bay on Saturday morning, Middle East Monitor (MEMO) quoted by Mi'raj ISlamic News Agency (MINA) as reporting.
The protesters intended to form a picket line to prevent work crews from unloading the ship, responding to the Palestinian General Federation Trade Union's BDS call for workers around the world to refuse to handle Israeli goods. "The Ever Lasting and its sister ship ZIM Piraeus were both due to be unloaded that day," Dr Larudee told MEMO.
"As it approached the docks, however, the Ever Lasting was ordered by the port authority to return to the entrance and moor to the side until further notice. In the meantime, the ZIM Piraeus had been treading water off the coast of Monterey since the previous evening."
He added that, "The reaction of the port authority and the decision to delay the arrival of one of the ships was apparently due to the knowledge that the dock workers were going to respect the picket line of the demonstrators."
Although Washington remains Israel's strongest ally, the latest massacre in Gaza has mobilised tens of thousands of Americans, who have taken to the streets across the country to demand an end to Israel's aggression and occupation of Palestine. (T/Nidiya/E01)
Mi'raj Islamic News Agency (MINA)