POPE CREATES FIRST PALESTINIAN SAINTS AT VATICAN MASS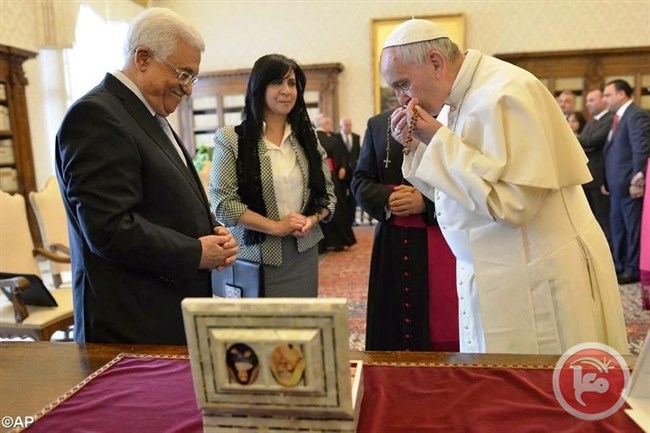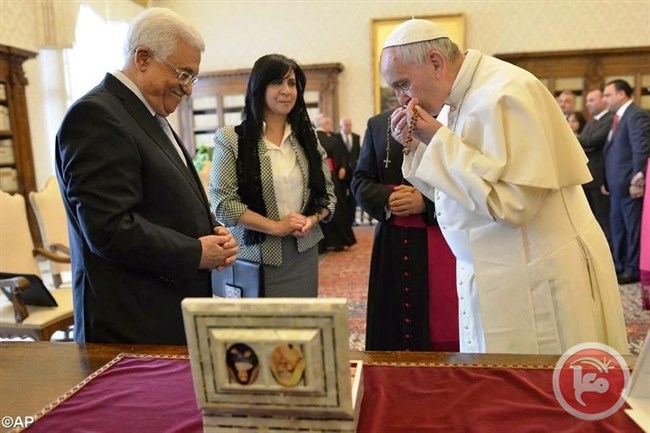 Vatican City, 29 Rajab 1436/18 Mei 2015 (MINA) – Two 19th-century nuns on Sunday became the first Palestinians to gain sainthood during an open-air mass celebrated by Pope Francis in St Peter's Square attended by President Mahmoud Abbas.
The pontiff urged the faithful to follow the "luminous example" of the two 19th-century sisters and two others, from France and Italy, who were canonized along with them on a sunny spring morning.
Marie Alphonsine Ghattas was born in 1843 in Jerusalem during its rule by the Ottoman Empire, and died there during the British mandate period in 1927, Ma'an News Agency quoted  by Mi'raj Islamic News Agency (MINA) as reporting.
She was beatified — the final step before canonization — in 2009.
Mariam Bawardy was born in Galilee, now in northern Israel, in 1846. She became a nun in France and died in Bethlehem in 1878 and was beatified by pope John Paul II in 1983.
Around 2,000 pilgrims from the Palestinian territories, Israel and Jordan, some waving Palestinian flags, attended the mass as well as Abbas, who had a private audience with the pope on Saturday.
Ghattas, through her focus on women's education and community work, left behind a network of convents, schools and religious centers — a more palpable legacy than Bawardy, who lives on more through the memory of her tough and mysterious life.
For sainthood, the candidate must have lived a holy life, as determined by the Catholic Church, and must usually have at least two miracles to their name, attributable to prayers made to them posthumously.
A miracle that led to Ghattas's canonization was the resuscitation of a Palestinian engineer in 2009, who was electrocuted and suffered a heart attack, but regained consciousness two days later after relatives prayed for her intercession.
During her life, Ghattas is said to have seen the Virgin Mary in several apparitions, and nuns talk of miracles she performed then, including saving a girl who had fallen down a well by tossing her rosary into the water.
Nun in blue
Bawardy, after becoming a nun of the Carmelite order, helped found the Carmelite Monastery in Bethlehem.
Orphaned at a young age and illiterate, she had her throat slit by an angry would-be suitor when she refused to convert to Islam, but a mysterious "nun in blue" is said to have saved her life, the Carmelite order's website says.
She traveled to France to become a nun, then to India to help set up a monastery there, and eventually settled in Bethlehem.
Although there are several saints who lived in the region during Christianity's early days, Bawardy and Ghattas are the first to be canonized from Ottoman-era Palestine.
The canonization of a third Palestinian — a Salesian monk — is still under review by the Church.
The other two new saints are Jeanne-Emilie de Villeneuve (1811-1854) and Maria Cristina dell'Immacolata (1856-1906).
De Villeneuve founded the Sisters of Our Lady of the Immaculate Conception of Castres, in southwestern France, while Sister Maria Cristina founded the Oblation Sisters of the Blessed Sacrament.
Giant portraits of the four women hung from the facade of St Peter's Basilica facing the square.
Francis urged the faithful to "follow in the footsteps" of the four women, whom he called "models of sanctity."
During his meeting with Abbas on Saturday, the pontiff called him an "angel of peace" and the two discussed the peace process with Israel, the Vatican said.
The Vatican said last week it was preparing to sign its first accord with Palestine, two years after recognizing it as a state. (T/P010/R03)
Mi'raj Islamic News Agency (MINA)