PALESTINIANS IN EUROPE WRAP UP THEIR 13TH CONFERENCE IN BERLIN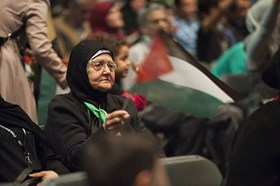 Berlin, 9 Rajab 1436/28 April 2015 (MINA) – The 13the Palestinians in Europe Conference wrapped up Saturday evening in Berlin by calling for developing a Palestinian strategy to internationally prosecute the Israeli occupation authority (IOA) for its heinous crimes against the Palestinian people, and to make use of the great efforts exerted all over the world to support the Palestinian cause.
The conference said in its closing statement: "The world must not allow the Israeli occupation to continue its abusive policy justified by an unjust legal system which establishes the foundations of the racist apartheid regime." It called for imposing sanctions on the IOA and intensifying the efforts to prosecute it and expose its malevolent policies and practices before the whole world.
The statement also highlighted the importance of accelerating the execution of the Palestinian reconciliation and to join efforts to protect the non-negotiable Palestinian rights and to confront the Israeli malicious schemes, The Palestinian Information Center (PIC) quoted by Mi'raj Islamic News Agency (MINA) as reporting.
It also stressed the need to activate and restructure the Palestine Liberation Organization (PLO) through the formation of democratically-elected Palestinian national assembly, as well as intensifying the popular action and strengthening the Palestinian civil society sectors in all places and in all fields. It also stressed the Palestinian people's adherence to the right of return.
As for the crisis of Yarmouk refugee camp, the statement said that the only way to put an end to the continued suffering of the Palestinians is to grant them the right of return to their homeland, and called for lifting the siege imposed on Yarmouk refugee camp.
The Palestinians in Europe warned of the escalated Israeli violations in Jerusalem and al-Aqsa Mosque and the Israeli attempts aimed at forging the identity of the Arab holy city. They also demanded the immediate lift of the siege imposed on Gaza and considered it a systematic crime and a flagrant breach to the human rights by all standards.
10,000 Participants
For his part, head of the conference Majed al-Zeer said that the number of the participants in the 13th session of the annual event exceeded 10,000, according to his estimation, and clarified to QPress that more than 300 volunteers have worked for six months in preparation for this event which has become an annual festival to discuss the issues of the Palestinians in diaspora.
Al-Zeer also added that choosing "the national political project" to be the motto of this session was due to the lack of a joint vision on the issues of the Palestinians in diaspora and inside Palestine, including the urgent issues of the Palestinians in Syria and the Israeli systematic judaization and settlement schemes.
Head of Al-Zaytouna Center Muhsin Saleh urged the Palestinian leaderships to improve their projects and political discourse to be up to the challenges that face the national project.
Saleh expressed his confidence in the Palestinians' ability to correct any political mistake by any Palestinian leadership, and pointed out that the huge number of participants from all over Europe reflects the Palestinians' unyielding commitment to the right of return. (T/P011/R03)
Mi'raj Islamic News Agency (MINA)