Palestinian Ulema: Al-Aqsa Liberation Issue of Faith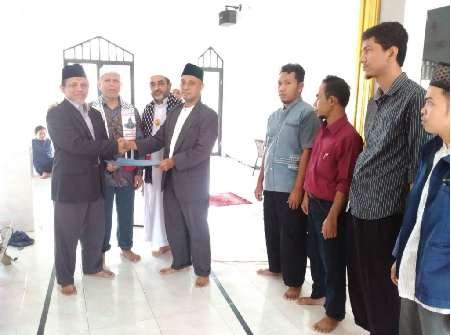 Banten, MINA – Professor of Gaza Islamic University (UIG) Prof. Dr. Mahmoud Hasyim Anbar emphasized, the struggle for the liberation of Al-Aqsa Mosque is a matter of faith for Muslims.
"The problems of Al-Aqsa and Palestine are not just political issues but it is an Islamic faith issue that must be fought for," he said at Tablig Akbar of Tadrib Muslimat at the Al-Hidayah Mosque in Cengkok, Balaraja, Banten, Sunday.
Mahmoud Anbar has visited several cities in Indonesia in order to socialize the Palestinian struggle.
In that series of events, there was an inauguration of the humanitarian agency Aqsa Working Group (AWG) Banten branch.
The Chairman of the AWG Agus Sudarmaji hoped that AWG Banten branch would be more maximal in running its mandate to carry out socialization about the importance of Al-Aqsa Mosques liberation and Palestine independence.
The event was also presented by Waliyul Imaam Jama'ah Muslimin (Hizbullah) Jabodetabek.Sakuri, along with some ulema, figures and youth. (LT/Sj/P2)
Mi'raj News Agency (MINA)