US MUSLIMS FACING IMAM SHORTAGE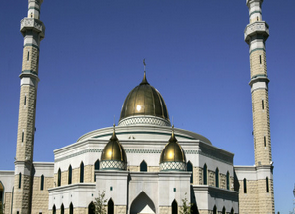 New York, 22 Shawwal 1435/18 August 2014 (MINA) – As the number of US Muslims increases, the need for more imams has become increasingly pressing, with Muslim parents pushing their kids towards other careers that do not include religious studies.
Like other American clergy-members, imams are expected to be "marriage counselor, youth director, scholar and fundraiser," Edgar Hopida, spokesman for the Islamic Society of North America (ISNA), a network of Muslim leaders and groups.
"Like the local priest, they're put into this role of community leader," he said, Onislam.net quoted by Mi'raj Islamic News Agency (MINA) as reporting, Monday (18/8).
As the number of Muslims in the United States grows, the number of mosques has also jumped 74 percent over the past decade.
The huge rise was not met with a similar one in the number of Muslims taking the post of imams, creating a severe shortage in the religious needs of growing worshippers.
Muslims leaders have attributed the shortage in the numbers of US Imams to parents' attitude toward their children studies that steer them away from religious leadership roles.
Instead, Muslim youth are encouraged to study medicine, engineering, law and business, according to Jihad Turk, an imam and president of Bayan Claremont, the Islamic graduate school at Claremont School of Theology in Southern California.
Besides discouragement by family, depending on volunteers, funds by local Muslims as well the absence of a steady paycheck impedes many Muslims to be imams.
A 2011 study found that only 44% of American imams are salaried and full-time. The rest are volunteer religious leaders.
Though there are no official estimates, the US is home to an estimated Muslim minority of six to eight million.
An earlier Gallup poll found that the majority of Americans Muslims are loyal to their country and optimistic about their future in the United States.
A recent survey found that American Muslims are the most moderate around the world.
It also showed that US Muslims generally express strong commitment to their faith and tend not to see an inherent conflict between being devout and living in a modern society.
American-Born Imams
In addition to the growing need for imams, the need for American-born imams who can communicate better with new generations appeared as another problem.
Four out of five imams in the United States were born and educated outside the country, mostly in Egypt, Saudi Arabia and India.
Raised in a different culture from their parents, third-generation American Muslims feel alienated from mosques and from religious culture altogether.
"The older immigrant generation has to understand it doesn't matter where you're from, your kids are American,"  said Turk, a 43-year-old Phoenix native whose program aims to train American imams with courses on nonprofit management, psychology, civic engagement, gender relations and the media.
"And there's a very real concern that that younger generation will not find the mosque a place that resonates with them if imams aren't prepared to help them with their world," he added.
Highlighting the need to educate American-born imams, Turk cited a "breaking Bad" sermon that was delivered by a Boston imam who " incorporating ideas from the popular television show".
In another mosque in Los Angeles, Muslims have hired an American-born Midwesterner who had converted to Islam.
Yet, other congregations have been offering "coed activities, encouraging civic involvement and openly discussing the challenge of establishing an American Muslim identity". (T/Nidiya/E01)
Mi'raj Islamic News Agency (MINA)