QASSAM KILLS FIVE MORE ISRAELI SOLDIERS IN KHAN YOUNIS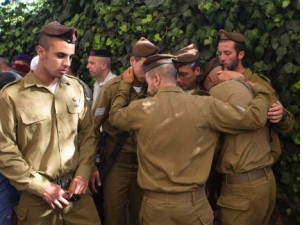 Gaza, 24 Ramadan 1435/22 July 2014 (MINA) – Ezzeddine al-Qassam Brigades, the military wing of Hamas resistant movement stated they have killed five more Israeli occupation soldiers and injured several others in a firefight, Khan Younis, Monday afternoon.
In its official statement, al Qassam said al Qaasam elite fighters ambushed Israeli occupation soldiers who tried to enter Gaza in Ghawafir, eastern part of al Qararah, Younis Khan. Qassam brigades intercepted them using explosives and machine guns. While the entire al Qassam fighters returned from the operation safely.
Meanwhile the Israeli occupation army command center  said Monday seven of its own had been killed in clashes with Palestinians in the Gaza Strip, raising the army death toll to 25 in the two weeks of fighting between the two rival sides.
The army occupation did not provide any further details. Local media had said there were a number of casualties when Palestinian fighters slipped under the Gaza border earlier the day via a hidden tunnel.
The success of al Qassam in killing Israeli occupation soldiers in this war is beyond the Israelis expectation. They embarked on the attack after attack. Monday, at least 15 Israeli occupation soldiers have been killed by these fighters. A day before it also was reported that ten Israeli occupation soldiers were killed after a shootout with al Qassam fighters Shujaiya, east Gaza City.
The data added to the number of deaths among Israeli soldiers. Al-Qassam has also captured an Israeli soldier named Shaul Aaron with identification number 6092065 in a military operation in Shujaiya.
Meanwhile, a spokesman for the Palestinian Health Ministry in Gaza, Dr. Ashraf Al-Qedra said on Monday, the number of Gazans who martyred since the first attack reach 548 people and the other 3300 were injured.
Palestinian human rights activists say Israeli occupation forces are using lethal shells known as flechette during their ongoing military attacks on the besieged Gaza Strip.
The Palestinian Centre for Human Rights says the Israeli occupation forces keep firing flechette shells toward the villages of Khuzaa, east of Khan Younis over the past few days.
Experts say this type of shell explodes in the air and releases thousands of metal darts, Press TV quoted by Mi'raj Islamic News Agency (MINA) as reporting Tuesday.
The Israeli occupation military has not denied using the shells in its onslaught. The Israeli occupation regime has formerly used flechette shells in Gaza and Lebanon.
Activists say several Palestinians were killed in Gaza due to such shells during previous Israeli occupation attacks.
The munitions have also killed and wounded dozens of civilians, including women and children, in Israel's war on Lebanon. (L/K01/P04/E01)
Mi'raj Islamic News Agency (MINA)