Malaysians Hold Solidarity Action For Palestine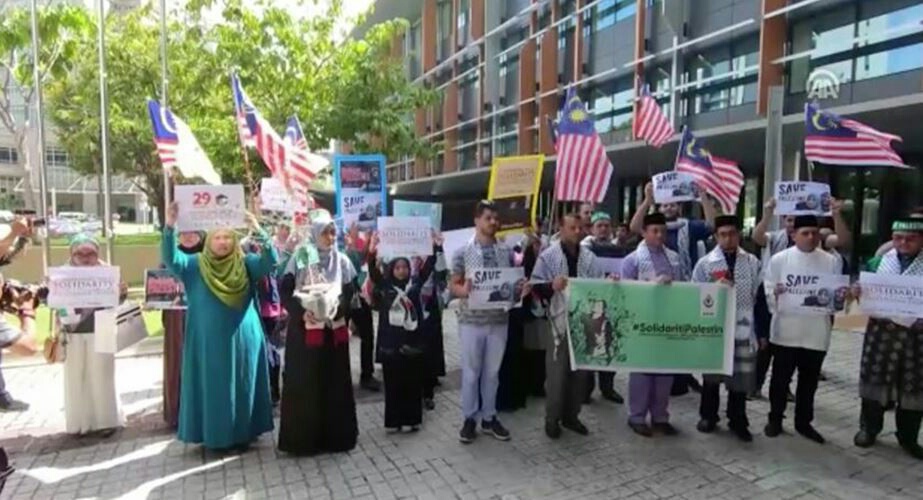 Dozens of Malaysians hold a Solidarity Action for Palestine in front of the UN representative office in Putra Jaya, (photo: AA)
Putra Jaya, MINA – Malaysians staged an international solidarity action for the Palestinian people in the government capital, Putra Jaya on Friday.
Dozens of participants who joined the Civil Society Organizations gathered in front of the United Nations office in Putra Jaya. They waved banners reading "Solidarity for Palestine" and "Save Palestine" between Malaysian and Palestinian flags, as quoted by Palestinian Information Center (Palinfo) on Saturday.
The participants also handed a joint letter in solidarity with the Palestinian issue to the UN coordinator working in Malaysia, Stefan Brezner.
In his press statement, Brezner expressed his gratitude to the Civil Society Organizations in Malaysia for their care and attention to the Palestinian issue.
Brezner explained that he would convey the message given to relevant parties at the United Nations.
Representing the Civil Society Organization, Chairperson of the Malaysian Islamic Youth Movement Muhammad Faishal Abdul Aziz emphasized to the United Nations that Malaysian people gave full support to Palestinian People.
The organization called on the United Nations to take concrete steps to support Palestine.
They also stressed the importance of putting pressure on the economies of Israel and the United States, as well as increasing international awareness of the Palestinian issue, supporting humanitarian activities, and dragging the Israeli occupation to the international criminal court.
Every year on 29 November, the United Nations commemorates the International Solidarity Day for the Palestinian people.
On 29 November 1977, the United Nations adopted a resolution to raise awareness about the rights of Palestinian people that cannot be repealed and the UN efforts to help Palestinian independence. (T/Sj/P2)
Mi'raj News Agency (MINA)