ISRAELI IMMIGRANTS IN EUROPE LAUNCH CAMPAIGN TO ENCOURAGE OTHERS TO FOLLOW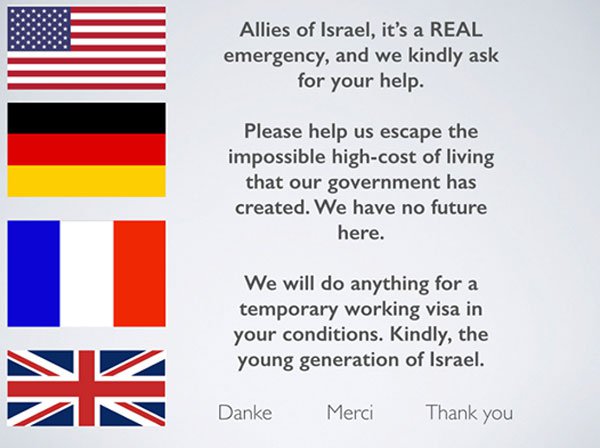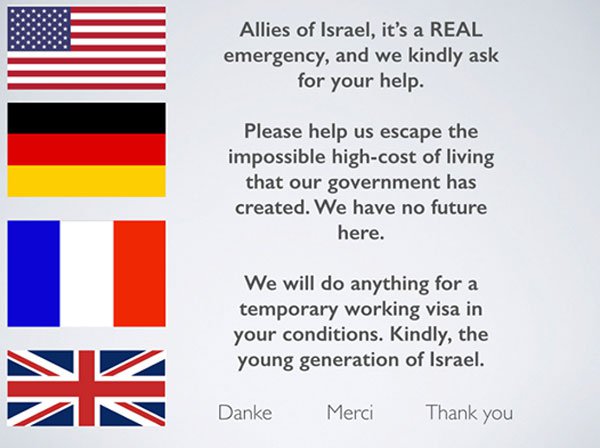 Oslo, 17 Dhulhijja 1435/11 October 2014 (MINA) – Israeli immigrants now residing in Berlin have launched a social media campaign to encourage other Israelis to move to Western cities for a higher standard of living.
They even created a Facebook page called Olim LeBerlin, which offers "all the advice, explanations, bureaucracy and forms to help you get out of the impossible cost of living and goods in Israel," Middle East Monitor(MEMO) quoted by Mi'raj Islamic News Agency (MINA).
The administrators post regularly complaining about the high costs of living in Israel, where they say an apartment costs 1.6 million shekels (about $430,000). The posts also highlight the benefits of living in European cities, where students are supported and everyday living costs are much more affordable than in Israel, which they say is a country only for "wealthy Jews".
The growing cost of living in Israel has been creating unrest, with some Israelis choosing to leave the country. During the height of the Arab uprisings, Israelis also took to the streets to protest against the growing inequality in the country and the austerity policies that have been dismantling the welfare state. The protesters demanded for the government to take action to reduce the high cost of living, but as the administrators of the Facebook page remarked, "We failed in our mission."
As a result, these disillusioned Israelis are now appealing to countries around the world to open their arms to young Israeli immigrants.
According to the Times of Israel newspaper, "Official figures from 1990 to 2011 actually show a drop in immigration in past years, from a high of 19,400 in 2001 to 6,700 in 2011."
"However, high profile social media campaigns and large protests have pushed the issue to the fore, forcing Israeli officials to go on the offensive against the emigration campaign," the newspaper added, quoting the former Finance Ministry director general Doron Cohen as saying that a "Facebook page that encourages Israelis to emigrate to Berlin is the lowest thing in the world."(T/R04/P3)
Mi'raj Islamic News Agency (MINA)