ISRAEL SUFFERS ECONOMIC LOSS OF $ 2.7 BILLION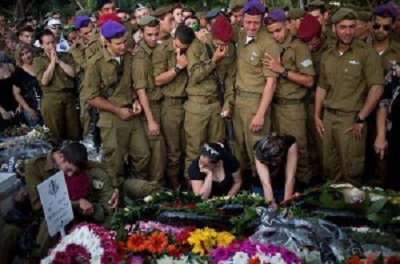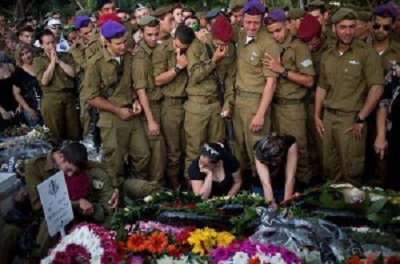 Gaza, 10 Shawwal 1435/6 August 2014 (MINA) – Israel occupation regime suffered economic loss of about nine billion shekels, or about $ 2.7 billion for 30 day military aggression in Gaza.
A number of economists said, the amount was early estimates. It just calculated from cost of war and tourism sector, Islamic News Agency Mi'raj (MINA)'s correspondent reported from Gaza, early Wednesday morning local time.
According to Hebrew-language news site, News one, loss of some sectors would be known clearly in one or two days ahead. The highest loss was cost of war sector reaching approximately six billion shekels or about $1.8 billion on Tuesday, 5 august 2014.
Meanwhile, the second highest loss came from tourism sector through cancellation of visas reaching 2.2 billion shekels, or about $660 million.
In industrial sector, Israeli loss was estimated about 400 million shekels, or about $34 thousand. The loss occurred in two different places. The first place was in southern region about 40 km from Gaza with loss 180 million shekels, or about $15 thousand and the second place was in central to south of Haifa with loss 220 million shekels, or about $19 thousand.
The loss did not include the damages to infrastructures. Moreover the failure of Israel to achieve their goals in their aggression in Gaza, MINA's correspondent in Gaza reported.
Zionist Israel occupation regime withdrew its soldiers immediately from Gaza Strip after temporary ceasefire on Tuesday morning local Time.
The withdrawal caused by they failure in ground attacks in Gaza. They just could enter areas near the border. "In the situation that Israeli occupation regime force soldiers that seemed to be in despair of not finding the Palestinian fighters, suddenly the resistance fighters emerged from underground and killed Israeli occupation regime soldiers," said MINA's correspondent in Gaza. (L/K01/Syt/E01)
Mi'raj Islamic News Agency (MINA)