Indonesian Hospital Unites Various Ethnicities in Rakhine State, Myanmar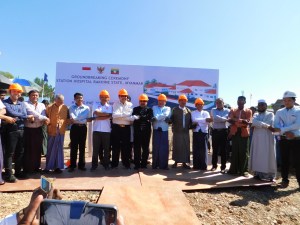 Rarkhine, Myanmar MINA – The Indonesian Hospital in Myanmar, which is currently in its early stage of construction, has echoed the message of peace and united the various ethnicities in the country.
This impression was seen during the GroundBreaking ceremony attended by Indonesian Ambassador to the Republic of Myanmar, Ito Sumardi, as well as by around a thousand people from various ethnicities and religions in Rakhine.
Around a thousand people of different ethnicities and religions gathered and united peacefully at the Indonesian Hospital project site during the event. This hospital is a symbol of peace in Myanmar, "said Nur Ikhwan Abadi, Site Manager for the construction of RS Indonesia in Mrauk U, Rakhine, Myanmar, Sunday (19/11).
"
Lampung-born engineer who had been a volunteer at the development of the Indonesian Hospital in Gaza Palestine said that the Indonesian Hospital in Rakhine brought a message of peace in Myanmar.
"There is a message of peace from this program. Those who come from Muslim and Buddhist communities show this attitude not only at the time of the event but when working together without any mutual hostility among them," he said.
Ikhwan added that the program is a humanitarian diplomacy effort conducted by MER-C which is the initiator of the Indonesian Hospital building program in Rakhine, Myanmar.
"The idea of ​​building this Indonesian hospital has been initiated since 2015 ago after a MER-C team visited Rakhine for several times, and this is a form of humanitarian diplomacy conducted by MER-C," he aded.
The construction of the RS Indonesia is part of the humanitarian diplomacy that MER-C has done since it built the Indonesian hospital in Gaza, Palestine.
The effort to build the hospital in Myanmar conflict area began with the first mission of MER-C to Rakhine in 2012 and continued with assessment to the location of RS Indonesia land in Mrauk U in August 2015. At that time, Tim immediately made a purchase (land acquisition) because the land is state property in Mrauk U, Rakhine State.
After the first phase of construction of the fence and landfill completed in August, MER-C appointed one of the best local contractors in Myanmar for the construction of the main building.
To oversee the whole process of RS Indonesia development at Rakhine State until the construction is complete MER-C puts volunteer engineers in the field. This is done as a form of MER-C responsibility to Indonesians who have funded this program.
Support and donations for the Indonesian Hospital development program at Rakhine State Myanmar can be channeled through; Mandiri 124.000.8111.982, or, BSM 700.1306.833, or BCA 686.028.0009, on behalf of the Medical Emergency Rescue Committee (MERC). (T/R09)
">Mi'raj News Agency (MINA)