INDONESIA URGES ISRAEL TO STOP RESTRICTION ON AL AQSA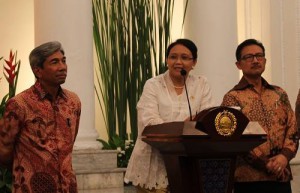 Jakarta, 8 Muharam 1436/1 November 2014 (MINA)  – Indonesia strongly condemned the Israeli  action imposing total closure and halting Palestinian access to their holy mosque, Al-Aqsa  and its compound, in Al-Quds (Jerusalem) and urged  the ending of its restriction.
"The closure of a worship place, such as  towards  the Al-Aqsa Mosque, is a violation of basic human rights, especially  for Muslims in Al Quds," Indonesian Foreign Ministry said in a statement received Mi'raj Islamic News Agency (MINA), Saturday.
Indonesia demanded a guarantee of safety for the Palestinians to do their daily p prayer in the third holiest mosque of Islam, and in this case Israeli occupation has no right breaking it.
The Ministry also expressed concern over the growing violence against Palestinians in Jerusalem and called on all parties to restraint, especially the Israeli occupation forces to immediately  end its violence against civilians on daily basis.
Israel on Thursday ordered the first full closure of the Al-Aqsa mosque compound in Jerusalem's Old City in 14 years, in a move denounced by Palestinian president Mahmoud Abbas as "tantamount to a declaration of war".
Abbas has warned that a decision by the Israeli regime to block the access of all visitors to the al-Aqsa Mosque compound amounts to a "declaration of war."
"This dangerous Israeli escalation is a declaration of war on the Palestinian people and its sacred places and on the Arab and Islamic nation," Abbas' spokesman Nabil Abu Rudeina quoted him as saying on Thursday, Press TVquoted by Mi'raj Islamic News Agency (MINA) as reporting, Thursday.
He also added that the closure of the holy site would fuel "more tension and instability" in the occupied lands.
Rudeina added that Palestinians hold the Israeli regime "responsible for this dangerous escalation in Jerusalem (al-Quds) that has reached its peak through the closure of the al-Aqsa mosque this morning."(T/R04/R03)
Mi'raj Islamic News Agency (MINA)