Indonesia-UAE Agrees to Develop Halal Industry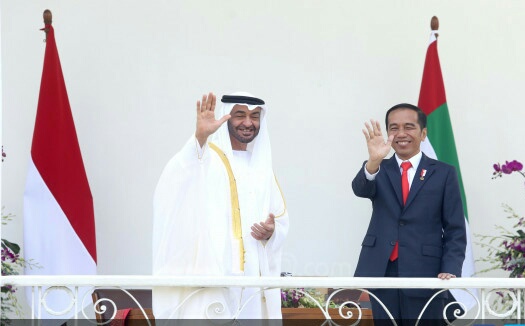 Jakarta, MINA – Indonesia and the United Arab Emirates (UAE) agreed to collaborate in promoting and developing the halal industry in order to utilize the potential and opportunities of the global halal market.
It was stated in a joint statement by Indonesia and the UAE following the meeting between President Joko Widodo and Crown Prince Abu Dhabi/Deputy Supreme Commander of the UAE Armed Forces, Sheikh Mohamed Bin Zayed Al Nahyan at the Presidential Palace in Bogor, West Java, Wednesday, July 24.
"In this case, President Joko Widodo invited Crown Prince to attend Halal Industry Summit in Indonesia in October or November 2020," said Indonesian Foreign Ministry statement received by MINA on Thursday, July 25.
As part of Muslims, the statement continued that Indonesia and the UAE are also committed to working together promoting moderation of Islam and spread the message of peace, compassion, and tolerance to present the true meaning of Islam as rahmatan lil 'ālamīn.
Indonesian Foreign Minister Retno Marsudi who accompanied President Jokowi said that the Crown Prince's visit was very historic because it was the first state visit after 29 years. His last visit to Indonesia was carried out by his father, Sheikh Mohamed Bin Zayed Al Nahyan.
"So he was very happy to be able to return to Indonesia, in addition to the state of affairs as well as a meeting between two close friends. So the President and Sheikh Mohamed have a very close relationship, the term "click very much", so you have clicked on it when we say, "said Retno.
In addition, there were nine cooperation agreements signed in the meeting.
Foreign Minister Retno told reporters that the nine MoUs were: MoU on Increasing Investment Protection, Double Tax Avoidance, Industry, Customs, Tourism, Maritime and Fisheries, Defense, Consular, and Culture.
"So I think this is in addition to a very historic visit, this is also a very straight forward, concrete visit, details of talking about economic issues, talking about the issue of publicity," said the Indonesian Foreign Minister. (T/Sj/P2)
Mi'raj News Agency (MINA)