Grand Mufti of Al-Quds Condemns the Attack on the Al-Aqsa and Closure of Ibrahimi Mosque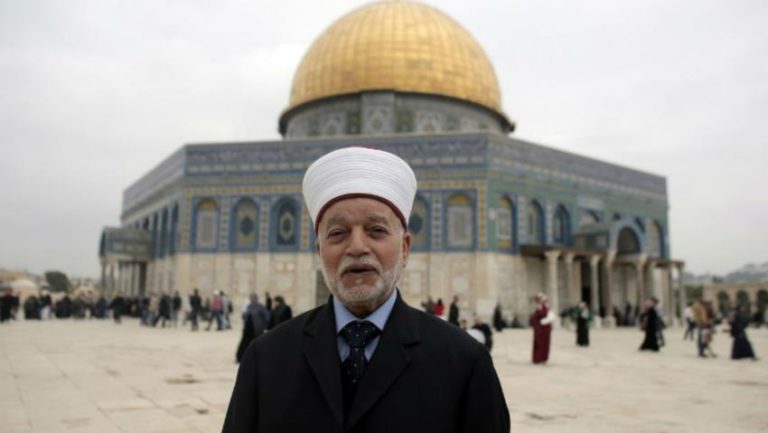 The Grand Mufti of Al-Quds City (Jerusalem) and the Palestinian territories, Sheikh Mohammad Hussein. (Photo: Special)
Al-Quds City, MINA – The Grand Mufti of Al-Quds City (Jerusalem) and the Palestinian territories, Sheikh Mohammad Hussein, condemned the attack on the Al-Aqsa Mosque by Jewish extremist settlers on Sunday morning, through the Al-Magharibah Gate.
Mufti Hussein also condemned the closure of the Ibrahimi Mosque in the city of Hebron to Palestinian Muslim worshipers, because it would be used for Jewish holidays.
According to the Al-Aqsa Mosque Khatib, Jewish extremist settlers invaded Al-Aqsa under tight guard by members of the police and special forces of the Israeli occupation authorities, attacked Muslim worshipers, and took them out of there, WAFA reported.
Mufti Hussein confirmed in his statement that the Al-Aqsa Mosque is an Islamic waqf until the Day of Judgment, and stated that Al-Aqsa and its surroundings are the pure rights of Muslims worldwide, without anyone sharing it.
Additionally, Muslim worshipers residing at the Al-Aqsa Mosque are not subject to the laws or decisions of the hostile occupation, and warned of the consequences of these attacks which offend the feelings of Muslims around the world.
The Israeli occupation authorities also completely closed the Ibrahimi Mosque in Hebron, southern West Bank, for 10 days a year, under the pretext of celebrating Jewish holidays.
He stressed, "this action deprives Palestinian pilgrims of their rights."
He said that the Israeli authorities announced to close the Ibrahimi Mosque this year on September 16, 20, 24 and 25, which are official Jewish holidays.
The Ibrahimi Mosque in the city of Hebron is considered one of the oldest and most important religious places for Muslims.
This status was obtained because it was built above the cave where the Prophets Abraham, Isaac, Jacob and Yusuf were buried.
Since the division of the Ibrahimi Mosque between Jews and Muslims following the 1994 massacre, several restrictions have been imposed on Muslims, including prohibiting the call to prayer for more than fifty days of the year. (T/RE1/P2)
Mi'raj News Agency (MINA)