GLOBAL MARCH TO JERUSALEM LAUNCHED IN GAZA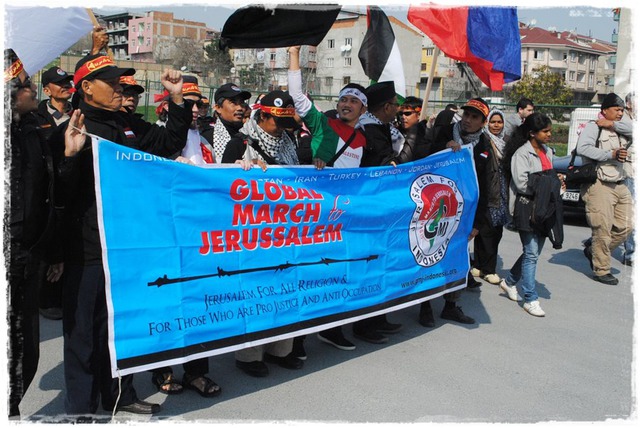 Gaza City, 10 Sha'ban 1435/8 June 2014 (MINA) – Hundreds of Palestinians in the Gaza Strip participated in the annual Global March to Jerusalem.
This event coincides with the 47th anniversary of the occupation of East Jerusalem (al-Quds) by Israeli forces is also being held in several countries around the world.
The Global March to Jerusalem is an international movement that supports the struggle of the Palestinians for freedom and condemns the Israeli occupation of Jerusalem( al-Quds).
Hamas movement called on the freedom-seeking people in the world to defend the Islamic and Christian holy sites in Jerusalem (al-Quds), ALRAY, Palestinian Media Agency quoted by Mi'raj Islamic News Agency (MINA) as reporting.
Protesters voiced slogans demanding the liberation of the entire historic land of Palestine; from the River Jordan to the Mediterranean.
This year's march also attracted pro-Palestinian activists from the United States, Spain and France. Organizers of the Global March to Jerusalem say activities in solidarity with Jerusalem (al-Quds) will continue around the world until June the 8th.
The participants from occupied Palestine's surrounding countries used to march to the closest point to the occupied city of Jerusalem.
Jerusalem (al-Quds) is important to all Muslims around the world. The occupied city is especially of great significance for Palestinians who consider it as the capital of their future state.(T/P01/E01).
Mi'raj Islamic News Agency (MINA)